UM Law Helps Vets Obtain Millions in Benefits
University of Miami Law School and Purpose Built Families Foundation team up to help homeless Veterans rapidly navigate challenges of obtaining earned benefits
Press Release
-
updated: Sep 6, 2018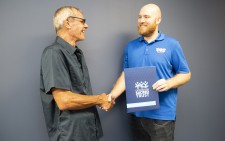 MIAMI, September 6, 2018 (Newswire.com) - University of Miami Law graduates have helped South Florida's homeless and at-risk Veterans collectively receive more than $3 million in benefits. Their success has led to a formal agreement between UM's Health Rights Clinic and the nonprofit Purpose Built Families Foundation to provide funding for two law school Fellows to serve hundreds of Veterans during the new fiscal year, Purpose Built CEO Seth Eisenberg announced today.
"The Law School will assign the Fellows primary responsibilities to assist veterans eligible for assistance under Purpose Built Families Foundation's Supportive Services for Veteran Families grant," said Professor Osamudia James, Acting Dean of the UM Law School.
UM Law graduate Ryan Foley has led the university's Health Rights Clinic's efforts to help homeless Veterans obtain earned benefits and navigate other legal issues that impact housing since 2014. As an Operation Sacred Trust Fellow, Foley will oversee legal services for the nearly 1,000 area Veteran families served by the agency each year. UM Law graduate Erin Hoover will be assigned to the Operation Sacred Trust team as a Veterans Rights Project Fellow.
After completing law school at the University of Miami, Foley became a member of the Florida Bar in 2013; Hoover in 2015. Both UM graduates have significantly devoted their legal careers to providing services for very low income military veterans.
Foley and Hoover both say they are "enormously grateful" to be able to give back to those who have served.
"Whether they're living on the street, shelter, in a car, or anyplace else, homeless and at-risk Veterans immediately know they're not alone as soon as they reach Operation Sacred Trust. They have an entire team of professionals working for them," Eisenberg said.
Purpose Built Families Foundation's Operation Sacred Trust program receives $2.7 million annually in funding from the U.S. Department of Veterans Affairs to assist homeless and at-risk Veterans in Broward and Miami-Dade counties.
In collaboration with Miami VA Medical Center, Carrfour Supportive Housing, PAIRS Foundation, and University of Miami, federal VA funding enables the program to provide eligible Veteran families with outreach, case management and assistance obtaining VA and other benefits. These may include:
Health care
Fiduciary payee
Financial planning
Child care
Legal support
Transportation
Housing counseling, and
Other services
Grantees are expected to leverage supportive services grant funds to enhance the housing stability of low-income Veteran families that are occupying permanent housing. In doing so, grantees are required to establish relationships with local community resources.
In fiscal year 2017, SSVF served more than 129,450 participants nationwide, including approximately 83,900 Veterans and 27,535 children. Because of these and other efforts, Veteran homelessness is down significantly. Last month, HUD Secretary Ben Carson traveled to Miami to commend Miami-Dade County for meeting HUD benchmarks indicating a high level of success disrupting veteran homeless.
"When homelessness happens, it should be brief, rare and non-recurring," Dr. Carson said during his visit.
VA Secretary Robert Wilkie said in his confirmation hearings earlier this year: "Many of the issues I encountered as acting secretary were not with the quality of medical care but with getting our veterans through the door to reach that care."
"Secretary Wilkie has made it a priority to ensure veterans receive the highest level of customer service," Eisenberg said. "Our agreement with the University of Miami helps ensure veterans going through or facing homelessness have rapid, convenient access to professionals who can help them immediately begin creating the future they deserve."
Source: Purpose Built Families Foundation
---
Categories: Legal Services
Tags: Department of Veterans Affairs, homelessness, legal services, Supportive Services for Veteran Families, University of Miami, Veterans
---