Use Instant Holiday Decor to Get Ready for the Holiday Season
Press Release
•
updated: Nov 28, 2017
HomeGardenandHomestead.com recommends the best easy holiday decorations to get any home ready for the holiday season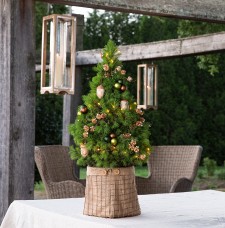 SANTA FE, N.M., November 28, 2017 (Newswire.com) - Decorating for the season with holiday décor can be a fun experience for the entire family. Getting a home ready for the festivities is a great way to get into the holiday spirit.
But not everyone has time during the busy holiday season to deck the halls with boughs of holly. For time-crunched families and on-the-go executives, there are simple, time-saving ways to get your home looking holiday-ready.
Start your holiday décor with a tabletop holiday tree. Many styles are available that come pre-decorated and already strung with lights. Another Christmas season classic is an evergreen wreath. Hang a fresh wreath above the fireplace as a holiday focal point, or hang a wreath on the front door to welcome guests.
An easy-to-create holiday décor display of Christmas tree ornaments makes a great table decoration. Simply fill a decorative bowl with vintage Christmas tree ornaments. Another quick project is to add a row of white votive candles along a tabletop or fireplace mantel to create a holiday focal point.
Bring festive cheer to your house this holiday season with the help of the ideas below.
Live tabletop trees offer instant holiday décor
A live decorative Christmas tree instantly brightens up any room in a home, and it also makes a great holiday gift. Not only do the festive colors add to the décor of any room, but a live evergreen tree also adds an inviting holiday fragrance to a home.
The Winter Woods Christmas Tree brings rustic holiday beauty to any apartment or home — and its tabletop size makes it a great holiday gift for anyone in an assisted living home or dorm room. The live tree is decorated with gold glitter acorns, shatterproof ornaments and other rustic décor, and the tree sits in a handsome wire-frame jute container. The tree also comes with battery-powered copper string lights, and batteries are included to make this evergreen tree a delightful holiday accent right out of the box. Shades of green, brown and copper create a rustic holiday display. The Winter Woods Christmas Tree is 24-28" tall, and it sells for $79.95 from www.jacksonandperkins.com, or call (800) 292-4769 to order by phone.
Another tabletop evergreen tree that will enhance the spirit of the holiday season is the Peace on Earth Tree. From the twig-lined cachepot to the ornamental pine cones, berries, and chickadees, this tree pays homage to the simple beauty of nature. The crown jewel of the Peace on Earth Tree is the simple but elegant "Peace" ornament, declaring the time-honored holiday message of harmony and serenity. The tree comes decorated with battery-powered copper string lights. Batteries are included, so the Peace on Earth tabletop tree is truly a hassle-free holiday decoration. The tree stands 24-28" tall, and it is available from www.jacksonandperkins.com, or call (800) 292-4769. The Peace on Earth Tree sells for $79.95.
Fresh evergreen decorations to welcome the season
The natural beauty and fresh fragrance of real evergreen decorations are an essential part of the holiday season. The rich green colors, outdoorsy aroma and lovely textures of fresh evergreens combine to bring the delights of the winter woods indoors where they can be enjoyed in the cozy comforts of home.
A swag of fresh-cut evergreen foliage not only fills the air with pleasant scents, it also adds a woodsy atmosphere anywhere it is placed. For those who don't have the time or the access to evergreen foliage to make their own holiday decorations, pre-made holiday wreaths and swag are available. Home For Christmas Swag from Jackson & Perkins is a holiday decoration made of freshly cut Pacific Northwest Noble Fir, Western Red Cedar, Oregon Blue-berried Juniper and variegated Holly. These natural ingredients all combine to create a festive evergreen accent that looks great hanging on a door, draped across a fireplace mantel or used as a dining table centerpiece. Finished with Lodge Pole pine cones and fresh twigs, and topped with a festive ribbon, this fine piece of greenery is perfect for any home.
Home For Christmas Swag sells for $39.95, and a deluxe version lit by battery-powered lights sells for $49.95. Consider gifting it to your family and friends who love the sight, scent, and texture of the winter woods. Available at www.jacksonandperkins.com, (800) 292-4769.
Easy-to-grow plant features holiday colors
Anthuriums are popular houseplants because they bloom well in low light and the flowers stay on the plants for two or three months. Anthurium 'Red' is a compact plant with bright red flowers that has been developed to grow and bloom well in a small pot. At full height, it reaches about 12 inches tall, so it never outgrows its spot in your house.
This tropical plant is grown in a grower's pot, and then dropped into a decorative earth-tone earthenware cachepot that looks great in any room. The earthenware cachepot measures 4.5" high by 4.5" wide, so it fits nicely on an end table or a mantel. (You may transplant the Anthurium directly into the earthenware pot at any time.) Anthurium 'Red' makes a wonderful holiday gift, and it's also a great choice for any gardening enthusiast. An Anthurium 'Red' plant in a decorative earthenware pot sells for $24.95 from www.logees.com.
A blooming Amaryllis is holiday season treasure
There's nothing like a blooming Amaryllis on a tabletop or fireplace mantel. It's truly one of the joys of the winter season. Not only is an Amaryllis bulb very easy to grow, but it produces some of nature's most flamboyant and longest-lasting flowers. The dramatic flowers may look delicate, but an Amaryllis is a tough plant that anyone can grow. Just give the bulbs a little water and watch the magic happen. Blooms will emerge in a few weeks, and the flowers will last all winter long.
A Coronation Amaryllis produces deep red flowers that are serious showstoppers. The deeply saturated red petals combined with the deep green foliage create an elegant homage to the holiday season — and beyond. The booms are showy, spectacular and long-lasting. Coronation Amaryllis flowers are six inches wide, with dark red petals that verge on maroon. The festive blooms stand 18 to 24 inches tall, and the flowers will hold their shape and color for weeks will virtually no maintenance. They are an ideal choice to brighten up your own home, and they are also a great gift for everyone on your holiday gift list.
The Coronation Amaryllis gift from Jackson & Perkins delivered in a two-toned metallic pot that complements any décor. This elegant container can easily be re-used after the holiday season has ended. The single Coronation Amaryllis in a two-toned metallic cache pot sells for $39.95, and the deluxe Coronation Amaryllis gift with three bulbs in a two-toned metallic pot sells for $79.95 at www.JacksonandPerkins.com or call 800-292-4769.
Another great choice is a Waxed Amaryllis bulb. These bulbs are coated in decorative wax, making them pretty from the bottom up, so there is no need for a container. Everything these flowers need to grow is inside the wax. You don't even need to add water. Huge tropical blooms will emerge within weeks of arrival, and all you have to do is watch the show unfold. This is the perfect gift for a friend who loves flowers but can't seem to keep plants alive. A Snowy Waxed Amaryllis Bulb in a decorative gift box sells for $39.95 from www.JacksonandPerkins.com.
Tabletop evergreen trees can be planted outdoors
Here's a great way to celebrate the holiday season indoors and plant a lovely evergreen tree outdoors. A tabletop evergreen tree from Nature Hills Nursery can bring a festive feel to any room. These small trees stand 12-14 inches tall, so they will fit in any home or apartment on a table or counter. They can easily be decorated to commemorate the holiday season by adding ornaments and lights, and the nursery pots can be wrapped with tinfoil or holiday wrapping paper or slipped into a decorative pot to finish off the festive look. Just add water periodically during the holiday season to keep these live trees happy.
After the holiday season, each tree can be planted in the landscape for years of enjoyment in the yard. Four different varieties of live tabletop Christmas trees are available — Colorado Blue Spruce, Black Hills Spruce, Norway Spruce and Serbian Spruce. Each tree sells for $14.95 directly from www.naturehills.com.
For more holiday decor and gift ideas, visit www.homegardenandhomestead.com.
Source: HomeGardenandHomestead.com
Related Media