US Chiller Services and the BP Group Form New Joint Venture Company in New York
Press Release
•
Jul 12, 2016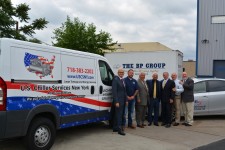 New York, NY , July 12, 2016 (Newswire.com) - US Chiller Services, experts in repair, maintenance, retrofit and servicing of large tonnage chillers; has entered into a joint venture agreement with New York-based HVAC specialist, The BP Group, to offer the full range of HVAC services for large tonnage chillers and equipment to an expanded client portfolio in the New York City tri-state area. 'US Chiller Services NY' will be located at the corporate facility of The BP Group in Glendale, New York.
The new joint venture will offer an independent alternative solution to the large tonnage market in the New York metro area, inclusive of New Jersey, Westchester and Connecticut from the Original Equipment Manufacturers (OEMs) currently dominating this market area. The portfolio of services and energy solutions offered by US Chiller Services, combined with The BP Group's strong reputation in client services, is the key to the future success of US Chiller Services NY.
The BP Group, founded by John Losey, is a lea der in HVAC maintenance, mechanical, service and Building Technology Industry. BP Mechanical, the construction division of The BP Group, with Robert Barbera as Principal, has the expertise and ancillary services to perform mechanically diverse HVAC installations.
Jack Fanneron, President of The BP Group said, "With US Chiller Services NY, we will now be able to offer a full range of HVAC services to a parallel market of large tonnage clientele. With the market presence of The BP Group and the experience and state of the art technology of US Chiller Services, this joint venture will offer an alternative solution to the OEM's."
US Chiller Services' engineers are industry and factory certified by major chiller manufacturers and provide services for centrifugal, screw, reciprocating and absorption chillers as well as ancillary equipment.
Dan Mizesko, Managing Partner of US Chiller Services said, "Our focus is on energy efficiency and reliability. We currently optimize service and maintain over 1 million tons of liquid chillers in the Gulf Region and have developed solutions that have been proven to save substantial Kilowatt per ton as well as cost to produce a ton of chilled water. We are now in a position to offer this expertise to the New York City metro area. Once the end users experience the type of solutions that we offer, I am sure that we will be as successful here as we have been in the Gulf Region. The BP Group's focus on customer satisfaction and delivering a job done right the first time and that philosophy is aligned with ours."
Al Shirawi US Chiller Services is a joint venture company based in Dubai and has been providing chiller services and energy solutions in the Gulf Region since 2001.
About US Chiller Services
US Chiller Services provides specialist services for large tonnage centrifugal chillers, liquid chillers and energy solutions, as well as operation and maintenance services for the district cooling industry. The company specializes in the repair, maintenance, retrofit and service of all OEM makes and models of large tonnage chillers ranging in size from 200 tons to 10,000 tons. It aims to provide unrivaled services and solutions to the liquid chiller, chilled water plant and district cooling plant industry. Our approach is to make sure that chillers, chilled water plants and district cooling plants operate at optimum efficiency.
​About The BP Group
Established in New York in 1978, The BP Group is the leader in the Building Technologies Industry. The BP Group companies provide diversified offerings of mechanical construction, HVAC service/repair, controls and insulation services for Fortune 500 companies, across many industries. The BP Group has four business divisions – BP Mechanical, BP Air Conditioning, Integrated Building Technologies (IBT) and Legacy Insulation. The Group is committed to protecting the environment through the use of Green products, LEED initiatives and BP Sustainable Solutions, a single-source energy consulting, engineering, procurement, and construction resource.
For media inquiries, please contact:
Source: The BP Group