UPMEM Raises €7M to Revolutionize AI and Analytics Processing
Press Release
•
Sep 12, 2023
Processing In Memory chips are a game changer for AI and big data applications in data centers and high-end devices, leading to massive energy efficiency and hardware footprint gains, led by UPMEM.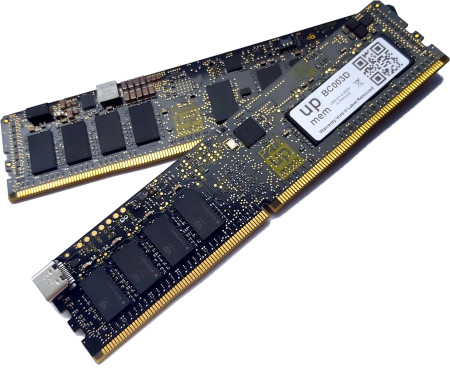 GRENOBLE, France, September 12, 2023 (Newswire.com) - UPMEM, a fabless semiconductor startup has raised €4.1 M equity from the European Innovation Council (EIC) Fund and Venture Capitalists (Partech, Western Digital Capital, C4 Ventures…), and a €2.5M grant from the EIC.
Founded by Fabrice Devaux and Gilles Hamou, the company is pioneering ultra-efficient Processing In Memory (PIM) accelerators to tackle the significant challenge of compute efficiency for AI and big data applications.
UPMEM's PIM solution, integrating UPMEM's first commercial-grade PIM chip on the market, is now available to cloud markets across the globe (US, Asia...) to provide the most cost-effective and energy-efficient solutions for AI and analytics applications in data centers and at the edge, such as large language models (LLM e.g. GPT), genomics, large analytics.
PIM can reduce energy consumption, cost, and hardware footprint by up to 10 times while still boosting performance. It has the potential to reduce data center electricity consumption by 20% and can be integrated into the most advanced devices such as PCs and smartphones.
Gilles Hamou, CEO & co-founder, commented: "UPMEM's pioneering PIM chips are the ideal solution to break away from the energy and cost-intensive hardware race to handle AI workloads that are dominated by off-chip data movement, such as LLM/GPT".
Svetoslava Georgieva, Chair of the EIC Fund Board, said: "The EIC Fund aims at backing European innovators in scaling their journey and UPMEM is a great example of how the European Union is helping top innovators. They are disrupting current compute architecture and proving that European players are regaining strategic positions in semiconductor design for high-performance computing."
About UPMEM
UPMEM is a leading global fabless semiconductor company specializing in the development of processing-in-memory (PIM) solutions. The company's innovative processor architecture allows data-intensive operations to be computed with hundreds of programmable coprocessors integrated directly into the memory, making it possible to modify large data analytics and AI applications to run on the coprocessors using high-level programming languages. With a team of international microelectronics and system software experts based in Grenoble, France - a hub for microelectronics and semiconductors - UPMEM has been widely recognized and has formed partnerships with top-tier industry players. The company offers a unique opportunity for businesses to enhance their competitive edge in the digital age, with a powerful tool for accelerating AI and data-driven operations and decisions.
About the EIC Fund
The European Innovation Council Fund from the European Commission is an agnostic Fund: it invests across all technologies and verticals, and all EU countries and countries associated to Horizon Europe. It provides the investment component of the EIC Accelerator blended finance.
The EIC Fund aims to fill a critical financing gap and its main purpose is to support companies in the development and commercialisation of disruptive technologies, bridging with and crowding in market players, and further sharing risk by building a large network of capital providers and strategic partners suitable for co-investments and follow-on funding.
The Fund pays particular attention to the empowerment and support of female founders as well as the ambition to reduce the innovation divide among EU countries.
Source: UPMEM