UPMEM Among EE Times 2020 Silicon 100
Press Release
•
updated: Jul 14, 2020
Processing-In-Memory ultra-efficient technology making its way through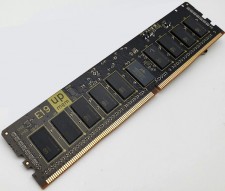 GRENOBLE, France, July 14, 2020 (Newswire.com) - UPMEM was just nominated as part of the 2020 Silicon 100, a list by EE Times of the most promising electronics and semiconductor startups around the globe.
This is another strong recognition for the UPMEM team, who has been working hard to conceive and produce the first Process-In-Memory (PIM) chip, module and programmable solution.
UPMEM PIM is a unique, ultra-efficient, scalable and programmable solution that sees thousands of processing units directly added in the memory chip on the same die. This technical prowess allows drastic reduction of off-chip data movement in the computing node for data-intensive applications in the data center and at the edge, resulting in an order of magnitude more efficient and affordable computing.
Since the presentation of the technology and solution at Hot Chip 2019 in Stanford, CA, and the emulation that followed in the computing community, the company has matured silicon production and is now shipping.
The company's fully functional first product confirms speed-up over 10x and, overall, a server's TCO and energy per throughput are about eight times lower. The first detailed benchmarked applications include genomics workloads or large index searches. These available implementations expose the convenience of the programming model and tools.
Such results have caught the attention of major leaders in data-centric industries who have already acquired UPMEM's PIM servers to further advance its adoption within strategic workloads.
UPMEM's tangible benefits can find a home in various applications and areas of research to develop its use cases. So far, advancements with renowned labs and companies have been made in the area of genomics, search engines, databases, image processing, and AI. PIM evaluation instances are available and intensively used from UPMEM data center.
UPMEM's acceleration Processing-In-Memory standard modules are compatible with Intel Xeon platforms and redefine the role of the CPU in a server. Most of the computing heavy workloads are handled within the PIM DIMMs, while orchestration or CPU-friendly tasks are efficiently dealt with by the main processor.
UPMEM PIM DIMMs, servers are available for shipping and PIM instances will be made available to every programmer through Cloud Service Providers.
For more information, visit www.upmem.com and follow @upmem​​
Media Contact:
Rémy
press@upmem.com
Source: UPMEM