University of Houston Partners With Versa Creative Group
Press Release
•
Aug 1, 2016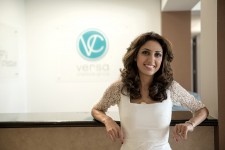 HOUSTON, TX, August 1, 2016 (Newswire.com) - Versa Creative Group, founded by Mary Shekari, is proud to announce that the University of Houston has selected Versa to develop comprehensive website and database solutions for UH Alumni and Giving web properties.
Founded in 1927, University of Houston is one of the most prestigious Tier One institutions in Texas. With over 42,000 students and a vast array of academic specializations, they've become a leading force among other state universities. Recently, Versa Creative Group was selected to further advance the institute's Alumni and Giving web presence. These new developments will integrate seamlessly with existing UH sites and will offer a more engaging interface with breaking news feeds and current events to further enrich student and alumni experiences. Having several of their own UH alumni team members, including the agency's founder, Mary Shekari, Versa Creative Group is proud to be working on such a rewarding and impactful project.
"We are honored to have the opportunity to collaborate with such an iconic state university. Over the years, they have inspired the hearts of countless students and alumni to achieve their dreams, and we look forward to contributing to such a virtuous legacy," Mary Shekari sai

Mary Shekari, Founder & Principal
About Versa Creative Group:
Versa Creative Group is a full-service advertising and marketing agency, headquartered in Houston, Texas, providing branding, strategy, digital and traditional media, and web services. With our talented team of designers, writers, developers, and account managers, Versa dreams boldly to create powerful and effective campaigns driven by passion and purpose.
Source: Versa Creative Group
Related Media
Tags