Universal Background Screening Named as a Top Screening Firm for the 13th Year in a Row
Press Release
•
Jan 9, 2023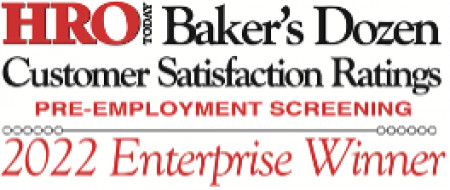 SCOTTSDALE, Ariz., January 9, 2023 (Newswire.com) - HRO Today magazine has ranked Universal Background Screening as a top Enterprise Background Screening Firm in HRO Today's 2022 Customer Satisfaction Ratings for Enterprise Background Screening Firms.
2022 marks the 13th year in a row Universal has been recognized as a top screening firm in HRO Today's annual Baker's Dozen Customer Satisfaction Rankings for Pre-Employment Screening in their client-based survey.
HRO Today's survey is the largest and most prestigious award in the pre-employment screening industry. A very important element to this survey is that it is completely based on customer feedback, with almost 1,000 HR professionals taking the survey. The survey measures screening providers in different dimensions with "Quality of Service" weighted most heavily.
"On behalf of the employees of Universal, whose hard work is largely responsible for our consistency in making this list, I'd like to express appreciation to our Clients for recognizing our quality of service over these many years. We take humble pride in making this list for the 13th consecutive year. Our Company will remain focused and steadfast in our commitment to continue to deliver quality service to our Clients and our many industry Partners," said Kevin Olson, CEO of Universal Background Screening.
"We all know that the best workforce leads to better outcomes and that means a steady flow of great new hires. Pre-employment screening is a key part of this process. Congratulations to Universal Background Screening for providing great service to their customers," said Elliot Clark, CEO of HRO Today Magazine.
About Universal Background Screening
Universal Background Screening, an SNH Capital Partners portfolio company, is an industry-leading provider of employment background screening solutions including employment background checks, drug testing, physical exams, and compliance management solutions. Universal's services help clients enhance workplace security, reduce liability, improve stability, and increase productivity and cost savings in their candidate selection and hiring process. For more information, please visit https://universalbackground.com.
About SNH Capital Partners
SNH Capital Partners is a U.S.-based, private investment firm focused on investing in the middle market. SNH's long-dated hold strategy allows the firm to support leadership teams over time, develop active strategic presence in each of its key industries, and grow platforms across target sectors. By generating annual earnings growth through operational excellence and optimal capital redeployment, SNH's portfolio companies continue to scale, both organically and strategically, supported by top-tier performance of SNH as benchmarked against private equity returns. For more information, please visit http://www.snhcapitalpartners.com.
Source: Universal Background Screening