United Laundry Receives Industry Recognition With Above & Beyond Service Award
Press Release
•
updated: Mar 6, 2020
TRSA Leadership Awards Series Recognizes Organizations Dedicated to Excellence in Service, Diversity and Sustainability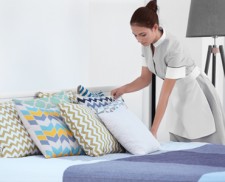 HONOLULU, March 6, 2020 (Newswire.com) - ​​United Laundry, a PureStar company and one of North America's foremost providers of laundry services and linen management to the hospitality and healthcare industry, receives the TRSA Above & Beyond Service Award, honoring the organization for exceptional customer service, attention to customer needs and serving as good corporate stewards in the Honolulu market.
The TRSA Above & Beyond Service Award acknowledges members' efforts and acts of service to customers and the community that go above and beyond, setting a higher standard for others to follow in the industry.
United Laundry has provided laundry and linen services to the health care, hospitality and airline industries for more than 30 years in the Honolulu area. The award recognition honors the exceptional work conducted by the more than 600 local employees during Hurricane Lane that affected the state of Hawaii.
"We take our responsibility to provide reliable customer service seriously, with a commitment that is demonstrated every day," stated Vicky Cayetano, President of United Laundry Hawaii region. "When Hawaii was faced with Hurricane Lane, we continued to operate and serve our customers. We recognized that hotels were filled with guests during the busy summer season, and hospitals were full with patients. Our local employees continued working to provide uninterrupted service. As public transportation was suspended, the company provided stipends to employees who offered rides to bring in associates for three days during the storms."
Following this unprecedented effort, General Managers and chefs of four hotels in the area showed their appreciation with a special meal served to the more than 600 United Laundry employees who continued to work through a time of extreme weather conditions and went above and beyond.
"United Laundry supports numerous organizations in the community reflecting its deep commitment to giving back to customers while fostering a culture of commitment in all its endeavors," said Shirley Schumacher, Chief Commercial Officer of PureStar. "This is indicative of the fabric of who we are and represents just one example of how our teams consistently strive to go above and beyond when and where our customers and community needs support."
PureStar prioritizes customer service, relationships and corporate stewardship across the Company's national footprint. Their local teams have a long history providing support to their customers in the face of adversity, even under extenuating circumstances, they strive to exceed expectations.
The Above and Beyond Award is part of the TRSA Leadership Awards series. The accolade will be presented during the Awards Dinner at the Legislative Conference in March, acknowledging members' exemplary efforts in customer and community service, plant operations, safety and sustainability.
​ABOUT PURESTAR
PureStar is North America's premier provider of laundry services and linen management to the hospitality industry. With locations across the United States, Mexico and the Bahamas, PureStar's expansive operations consistently enhance guest comfort for the thousands of client partners they serve.
Source: United Laundry, a PureStar company
Tags
Additional Links