Unique Elleffe Design Stainless Steel Home Décor & Serveware Debuts at IHHS 2017
Elleffe Design North America Uses the International Home and Housewares Show for Launch of New and Unique Collections of Italian Stainless Steel
Press Release
-
updated: Mar 20, 2017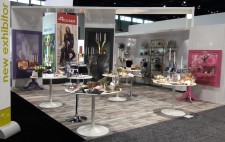 Chicago, IL, March 20, 2017 (Newswire.com) - Elleffe Design North America, the luxury boutique home accent brand offering 100 percent made in Italy fine home accents and serveware, announces the debut of 2017 collections at the Chicago International Home and Housewares Show (IHHS 2017). Elleffe Design North America will be debuting new and unique, luxury stainless steel from Elleffe Design of Italy at IHHS 2017.
Elleffe Design, the Italian 18/10 stainless steel manufacturer, has spent last year perfecting the production of plating for their normally silver/mirror-like product line. The Chicago International home + housewares show 2017 attendees will be the first to see the introduction of the unique gold, silver, brass and copper plated 18/10 stainless steel for home décor, serveware and giftware in new collections. Elleffe Design North America will be introducing plated and non-plated versions of new stainless steel collections at IHHS 2017.
The stainless steel home décor, serveware and giftware collections spotlighted at the Chicago Housewares show are: World, Ypsilon, Alzate, Mosaico, Bubble, Ciocco, Ventaglio, and Candelieri. These Elleffe Design collections have been designed to meet the desires of modern households, hospitality professionals, interior designers, event planners or anyone else looking for modern, expressive stainless steel that is both versatile and a piece of art at the same time.
"The attendees of the 2017 Chicago IHHS exhibition will be the first to be able to see and order the newest collections in standard or plated variations," says Elleffe Design North America Director of Marketing Rami Izadyar, "Photos do not do justice to the amazing designs and plating options, if you are at the IHHS 2017, you should stop by our booth to see everything in person."
Elleffe Design North America can be found at booth N7926 located in the North Building discover|DESIGN Expo. Additional details about Elleffe Design exhibiting at the IHHS 2017 Chicago exhibition can be found on their website at www.ElleffeDesignNorthAmerica.com .
Source: Elleffe Design North America
Share:
---
Categories: Interiors and Decoration, Hospitality, Decorating, Table Tops and Tablescapes, Kitchen, Shopping
Tags: chicago home show 2017, Chicago Housewares Show 2017, elleffe design, IH+HS 2017, IHA 2017, IHHS 2017, international home and housewares show, international home show, italian stainless steel, stainless steel home decor, stainless steel serveware
---