International Home and Housewares Show 2017 is the Official Launch for Elleffe Design Luxury Stainless Steel
Elleffe Design Exhibits their Expressive Modern Italian 18/10 Stainless Steel in a Special Way at IHHS 2017
Press Release
-
updated: Mar 15, 2017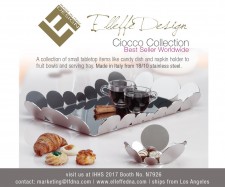 Long Beach, CA, March 15, 2017 (Newswire.com) - platters N bowls, in partnership with Elleffe Design North America, announces that the 2017 International Home and Housewares Show (IHHS) is the official debut of Elleffe Design North America. Elleffe Design North America will be officially introducing their luxury Italian stainless steel at IHHS 2017.
Elleffe Design modern Italian stainless steel home décor, serveware and giftware were recently introduced to the United States through the platters N bowls retail website. After this successful soft launch, Elleffe Design will now be exhibiting at the 2017 Chicago IHA show to display new luxury stainless steel collections. While exhibiting at the International Housewares Association show in Chicago, Elleffe Design North America will be introducing new designs with a wide variety of colors not seen before in stainless steel products.
The Elleffe Design Italian stainless steel home décor and serveware are not the typical conservative pieces seen at the Chicago housewares show. The style of Elleffe Design is expressive modern which provides a unique look as if a piece of art, a look not found in North America until now. High quality 18/10 alloy of stainless steel used by Elleffe Design was chosen for its superior properties in both providing a stunning appearance and its almost care-free maintenance.
"We will be showing some amazing new collections at the 2017 Chicago IHHS exhibition" says Elleffe Design North America Director of Marketing Rami Izadyar, "If you have ever wanted gold, silver, brass or copper décor or serveware without the high maintenance or if you wanted the ability to serve food in these metals without the worries, visit our booth."
Elleffe Design North America  can be found at booth N7926 located in the North Building discover|DESIGN Expo. Additional details about Elleffe Design exhibiting at the IHHS 2017 Chicago exhibition can be found on their website at www.ElleffeDesignNorthAmerica.com .
Source: Elleffe Design North America
Share:
---
Categories: Interiors and Decoration, Hospitality, Furnishings, Table Tops and Tablescapes
Tags: chicago home show 2017, Chicago Housewares Show 2017, elleffe design, IH+HS 2017, IHA 2017, IHHS 2017, international home and housewares show, international home show, italian stainless steel
---