Union Carpenters Local 279 Repairs Flooring for the Nyack Center
Press Release
-
updated: May 5, 2017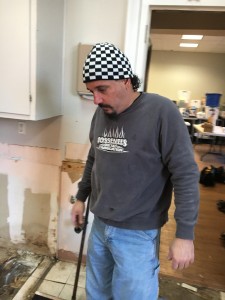 Nyack, N.Y., May 5, 2017 (Newswire.com) - When State Senator David Carlucci needed a special talent for a good cause, he called a friend, Paul M. Cassel, and asked for a favor.
The Nyack Center, a social service nonprofit in Carlucci's district, had a kitchen floor that was in deplorable shape. It had become unsafe and was in desperate need of repair. Carlucci told Cassel, council representative for the Northeast Regional Council of Carpenters (NRCC), Local 279, that he wanted the repair to be done right.
Cassel reached out to members of his local and asked for volunteers after examining the flooring project. He acknowledged that the floor was in dreadful condition.
"It was horrendous, and it wasn't just a matter of aesthetics because the subfloor was shot," said Cassel "We ripped out the entire floor and put down the concrete board. After we had stripped the floor, we got down to the substructure, which was actually quite solid with some beautiful three-inch tongue and groove oak."
Cassel organized a team of five carpenters, and they completed the entire project on a Sunday, returning once to replace the doors. Tile craftworkers followed the union carpenters. "They did a terrific job, making the floor look beautiful," said Cassel.
The Nyack Center is a nonprofit that helps children, youth and family with educational and recreational programs and is a meeting place for afterschool and other events. The kitchen plays a vital role because the center feeds about 150 children daily.
"The Nyack Center plays such an important role in the community, and everyone involved with this effort knew we had to find a way to make it successful," said Senator Carlucci.  "Thousands of children come into the Nyack Center every week for meals, and they deserve to have a place that can accommodate them.  We're fortunate to have partners like the Northeast Regional Council of Carpenters in the community that understand the value of helping out a great program and are willing to commit to getting this done."
"We were happy to help," said Cassel. "Our union carpenters are part of the community. We live and work here, so when someone asks us to lend a hand, we're ready to step up and offer our skills."
Cassel's local, like others in the Northeast Regional Council of Carpenters (www.northeastcarpenters.org), has a person assigned to assess volunteer efforts. Some are generated internally when a carpenter becomes aware of someone who would benefit from the carpenters' skill set. Other times, they will receive a call for help.
Carpenter Danny Durham leads carpenter projects. His two sons, Corey Thomas and Kyle Thomas, and Joe Whalen were instrumental in finishing this project. Paul Cifuni was involved with the doors and hardware portion of the Nyack Center project.
###
 
Source: The Carpenter Contractor Trust
Share:
---
Categories: Business News, Construction, Business
Tags: Local 279, Northeast Regional Council of Carpenters, Nyack Center, Paul Cassel, State Senator David Carlucci
---