Unicorn Shops Website Not a Secret Any Longer
Press Release
•
updated: Jun 7, 2017
Secret Website with a Wide Selection of Unicorn Merchandise is Officially Launched Due to Being Discovered by a Fairy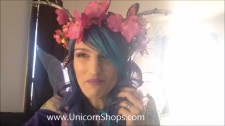 Long Beach, CA, June 7, 2017 (Newswire.com) - Kismet Developers, an internet e-tailer and media marketing company, announces the official launch of its unicorn-specific web store, Unicorn Shops. This website has one of the widest varieties of unicorn merchandise for a specialized website and was a closely guarded secret until it was accidentally found by a fairy.
Like the mythical unicorn in a secret garden, the Unicorn Shops website was a hard-to-find e-commerce shop until recently. A fairy named Lily lost her unicorn, and while using the internet to find it, accidentally found the Unicorn Shops store. Faced with being exposed after staying a closely guarded secret, the Unicorn Shops e-commerce website is now being launched officially for all to visit.
"It is a shame Unicorn Shops could not stay a secret, but it was just a matter of time, I guess."

Ken Vitto, Unicorn Trainer
The Unicorn Shops website will be launched with unicorn clothes, jewelry, bedding, electronic accessories, birthday party bag favors, party supplies, unicorn horn headbands and much more. Unicorn shirts, hoodies, T-shirts, jackets, sweaters, shoes, hats and many other unicorn clothing items will be available at launch. Unicorn necklaces, earrings, rings and other unicorn jewelry is offered as well. Unicorn pillow cases, cell phone cases, USB memory stick thumb drives, tattoos and much more unicorn merchandise is available and always growing.
"It is a shame Unicorn Shops could not stay a secret, but it was just a matter of time, I guess," said Unicorn Trainer Ken Vitto. "We hope unicorn lovers and givers of gifts to unicorn fans, will enjoy the Unicorn Shops website, which offers a huge selection of fun, funny and magical merchandise about unicorns."
This Unicorn Shops official website dedicated to the great horned horse is no longer a secret and has made its public debut. The Unicorn Shops "un-secret" website can be found at www.unicornshops.com and will be open by the time you discover this press release.
Source: Kismet Developers
Related Media