Unconventional Leadership Development Training Conferences
"Setting an example is not the main means of influencing others, it is the only means." ― Albert Einstein
Press Release
-
updated: Aug 13, 2018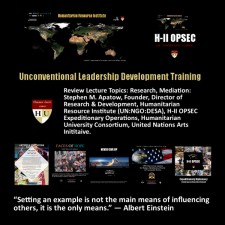 MILFORD, Conn., August 13, 2018 (Newswire.com) - Stephen M. Apatow, Founder, Director of Research & Development, Humanitarian Resource Institute (UN:NGO:DESA), H-II OPSEC Expeditionary Operations, Humanitarian University Consortium, United Nations Arts Initiative is expanding Unconventional Leadership Development Training Conferences:
Unconventional Leadership Development Training: From "Living On The Edge" to being the "Cutting Edge"
Focus areas for corporate, defense, governmental and youth leadership programs include Solution Oriented Strategic Planning for Complex Problems to Arts Integration Into Education, Sharpening the Tactical Athlete, Professional Sports and Olympic Development Programs.
The format of each conference is defined by the client, and targets peer-reviewed research, development, advocacy, mediation initiatives advanced from 1990-Present: Subject Matter Overview.
Stephen, no one synthesizes the global and local threat landscape and the dangers we face better than you. Thank you for including my work and I appreciate your insights. May peace thrive! - Farhana Qazi, Founder of Global Insights, LLC and Fellow at the Center for Global Policy. Farhana is the first Muslim woman to work for the U.S. government's Counterterrorism Center.  www.farhanaqazi.com
Additional endorsements associated with Policy, International Relations, Program Management, Government and Counterterrorism are available on LinkedIn.
For additional information, contact:
Stephen M. Apatow
CEO, Humanitarian Resource Institute (UN:NGO:DESA)
H-II OPSEC Expeditionary Operations
Telephone: 203-668-0282
Email: s.m.apatow@H-II.org
Internet: www.H-II.org
Twitter: HIIOPSEC
Instagram: HIIOPSEC
Source: Humanitarian Resource Institute
Share:
---
Categories: Growth and Expansion
Tags: Arts, Defense, Education, Excellence, Leadership, Mentorship, Military, Youth
---