Tyler Barnett Exhibits His Post-Meditative Enso Paintings at bG Gallery in Santa Monica
Press Release
-
updated: Jun 28, 2019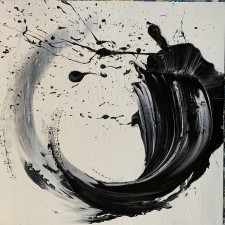 LOS ANGELES, June 28, 2019 (Newswire.com) - Los Angeles-based artist Tyler Barnett returns to bG Gallery for an exhibit of new work meditating on water. Titled "Enso in Water," Barnett's new body of work will be on display at bG gallery at 3009 Ocean Park Blvd, Santa Monica, CA 90405 from July 17-21. An opening reception will be hosted by the gallery on Saturday, July 20 from 7 – 10 p.m.
Barnett has taken the spiritual shape of the Enso and used it as a starting point to open an expansive body of work with dynamic variations surrounding the circular flow of the form. His work blends elements of Japanese action painting, psychedelic art and spiritual practice, the circular form often created in a singular breath after hours of meditation.
"We are all moving, constantly, in one way or another. And while it might feel a bit linear, we are actually moving in circles," says Barnett. "We all feel this deeply, intrinsically. Through 'Enso in Water,' I hope to inspire people to take a moment to stop and just be."
Barnett, who is founder and president of Tyler Barnett PR & Marketing, a well-established Los Angeles public relations agency specializing in the millennial market, began painting his own unique interpretation of the Enso in his home garage as a means of balancing his fast-paced professional life with a slower and more zen-like creative outlet.
"Fire and water collide in Barnett's '​Enso In Water' series," says Om Bleicher, founder of bG Art Dealings, whose Santa Monica gallery will be the home of Barnett's upcoming show. "Barnett has taken a step further in his evolution of meditations on the zen figure to create an unexpectedly active and electrified series. Vibrant colors, paint experimentation an action painting have been pushed to greater limits to evoke the techno psychedelic exploration of spirituality that is more of our time. While the last series might have been about finding peace, this series tends to be more about finding passion and drive."
Barnett's Enso paintings, which use acrylic paint and other mediums in dynamic color variations, offer spectators an honest glimpse into the meditative mind—sometimes clear and focused; other times, wild and otherworldly. However, one aspect remains the same: each painting Barnett creates carries its own literal peace of mind, completely unaffected and entirely uncensored.
Barnett began documenting his paintings on social media under the Instagram account @ensodaily — a visual representation of a present mind— and individuals from California to Tokyo quickly took notice. "Enso in Water" marks the fourth installment in Barnett's Enso series. 
For more information or to browse Tyler Barnett's Enso paintings daily, please visit: www.instagram.com/ensodaily
For more information about the bG Gallery, please visit: bgartgalleries.com
For interview requests, please contact Teesha Murphy by email: teesha@tylerbarnettpr.com or at 323.937.1951.
###
Source: Tyler Barnett
---
Categories: Arts and Entertainment
Tags: art, artist, enso, enso in water, gallery opening, Los Angeles, Tyler Barnett
---