Twelve12 Branding and Marketing Agency in Orange County Kicks Off Award Season With Prestigious Telly for Mercedes-Benz
Press Release
•
Jun 22, 2023
Premier Video Production Leaders Add Yet Another Telly Award for an Engaging Brand Spot for Mercedes-Benz of Laguna Niguel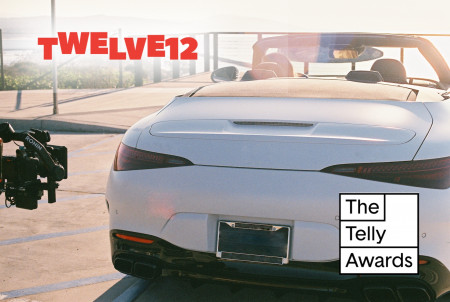 IRVINE, Calif., June 22, 2023 (Newswire.com) - Twelve12, an established leader in design and branding throughout Southern California and beyond, is pleased to announce that it has been honored with a prestigious Telly Award for its recent video production for local dealership Mercedes-Benz of Laguna Niguel. The piece selected for recognition, "From the Mountains to the Sea," was designed to highlight the automotive dealership as it enters its 50th year of servicing Orange County, where it is a leading provider for Mercedes-Benz vehicles. The award-winning video production showcases Twelve12's exceptional talent for visual storytelling and its ability to captivate audiences while telling unique stories for businesses of all types.
In previous years, The Telly Awards, known for honoring excellence in video and television across all screens, have acknowledged Twelve12's exceptional work and commitment to excellence in video for a wide range of clients. This year's video, created in conjunction with Mercedes-Benz of Laguna Niguel, expertly showcases the elegance, innovation, and cutting-edge design of the global brand's latest luxury vehicles. The production seamlessly combines stunning cinematography over numerous local spots, with reverence and attention to detail in presenting some of the greatest luxury vehicles on the market today. The result is a visually compelling and resonant piece that pays tribute to the dealership and its commitment to local community.
"We are thrilled and humbled to receive this year's Telly Award for the 'Mountains to the Sea' spot," said Ike Elimsa, director at Twelve12. "We love finding creative solutions for local clients and industry leaders alike, and Mercedes-Benz of Laguna Niguel uniquely fits both categories."
Twelve12's dedication to innovation and creativity in the industry has cemented its position as a trusted partner for global brands hoping to present remarkable visual experiences. It's also a testament to Twelve12's mission of crafting end-to-end solutions: strategy, branding, marketing, production and beyond — offering solutions that express a brand's true identity.
The team at Twelve12 would like to express its gratitude to everyone involved in bringing the vision to life, and for Mercedes-Benz of Laguna Niguel for its commitment to the vision presented.
About Twelve12:
Twelve12 is a full-service branding and marketing agency based in Irvine, in sunny Southern California. Specializing in strategic planning, branding, marketing, website creation, and more, our team of talented professionals exhibits a passion for visual storytelling. Over the years, Twelve12 has established itself as a trusted partner for local and global firms alike, ensuring above all that each of our clients presents themselves with a unified, unforgettable voice.
About The Telly Awards:
The Telly Awards is the premier award honoring video and television across all screens. Established in 1979, The Telly Awards receives over 12,000 entries from all 50 states and five continents.
Source: Twelve12