TV Host and Home Stylist Lauren Makk Shares Home Trends on TipsOnTV
Press Release
•
Sep 29, 2023
Renowned Designer on Fabulous Fall Ideas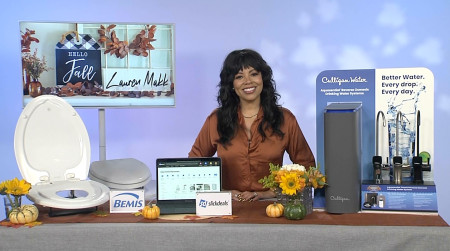 ATLANTA, September 29, 2023 (Newswire.com) - The fall season explodes with its beautiful color palette and marks the perfect time to add creative touches to home décor. Plus, there are lots of great deals on everything from home goods to furniture, paint and wallpaper, doors, and home care appliances. TV Host, designer and stylist Lauren Makk provides some timely fall home improvement inspiration.
START WITH SAVINGS
Shopping for your home can be pricey. Lauren's tip: start by visiting Slickdeals. Slickdeals is a community of millions of real people working together to save. It's all about shoppers helping shoppers. There are 12 million shoppers vetting and voting up the very best deals from all your favorite retailers like The Home Depot and Amazon. You can find deals on everything from home decor to remodeling supplies and know that you're getting the best product at the best price. It's like having millions of friends to help you share and understand the very best deals at any given time. For more information, visit slickdeals.com.
FALL HOME IMPROVEMENT
Impress guests with cleaner, safer, and great-tasting water! Culligan's Aquasential Smart Reverse Osmosis System is regarded as the World's Most Efficient RO Drinking Water System. It comes in a variety of designer faucet finishes and is certified to reduce up to 70 contaminants. It also comes with the Culligan Connect app to set water consumption goals, monitor contaminants removed from water and it even tracks the number of plastic water bottles saved and gives service reminders. To find your local dealer, visit Culligan.com.
OVERLOOKED AREAS IN THE HOME
Often overlooked but always appreciated are the toilet seats. Changing out your toilet seat is a quick upgrade to a bathroom that everyone will notice when they visit. Bemis, known for their high-quality, affordable toilet seats that are made in the US, has many options to fit specific needs. One example is the Next Step 2 Child & Adult seat. It looks like a normal toilet seat, but it comes with a child-size seat in the lid. Or infuse the bathroom with style and elegance with the Mayfair by Bemis Benton with metal hinges for a quick design upgrade. Check these and more out at toiletseats.com.
About TipsOnTV
TipsOnTV covers a variety of topics, including food, entertaining, personal finance, technology, travel, health, lifestyle and more.
Source: TipsOnTV