Turning Point Center of Houston to Receive Donated Roof Repairs From RoofCARE and APOC
Local roofing contractor, RoofCARE and material manufacturer, APOC are donating roof repairs to Turning Point Center in Houston, TX for the 7th Annual Roof Angel Project, taking place December 18, 2018.
Press Release
-
updated: Nov 27, 2018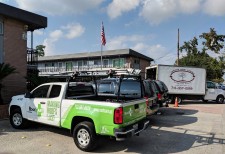 HOUSTON, November 27, 2018 (Newswire.com) - For their 7th Annual Roof Angel Project, RoofCARE will once again partner with roofing material manufacturer, APOC, to provide significant roof repairs to Turning Point Center, in Houston, TX. For the past six years, RoofCARE has donated roof repairs to needy non-profit organizations throughout New Mexico and El Paso, TX. This year, with the opening of their Houston Branch, RoofCARE extended the program to their new home community, selecting a Houston recipient. The project will begin on December 18 and should wrap up the following day.
RoofCARE will be conducting the work and APOC will be donating the materials needed to make the repairs. The scope of work will include corrective repairs, leak repairs and preventative maintenance on the metal roofs of two buildings at Turning Point Center, located at 1701 Jacquelyn Dr, Houston, TX 77055. Representatives from both RoofCARE and the Turning Point Center will be on-site and available for questions/interviews on 12/18/18.
Turning Point Center is an independent, tax-exempt, non-profit organization which offers food, shelter, and other rehabilitative services to meet the physical and emotional needs of a neglected segment of society: underprivileged individuals aged 50 and above who are unable to provide safe and adequate living conditions for themselves. Through a variety of programs geared to address the unique needs of these individuals, the ultimate goal is to return them to an independent living status. In addition, Turning Point Center provides other homeless individuals and families with short-term emergency services and referrals to other agencies. To learn more about the Turning Point Center and how you can help, stop by their facility and/or visit them online at https://turningpointcenter.org.
RoofCARE is a full-service roofing contractor that utilizes a unique approach, focused on cost-efficient and sustainable solutions and avoiding premature roof replacement. They help their customers manage their roofing assets more effectively through maintenance, repair and renovation services. Since being founded in 2008, RoofCARE has experienced consistent growth and now serves residential, commercial and government clients throughout New Mexico and parts of Texas, with branches in Albuquerque, Las Cruces, Santa Fe, Carlsbad, El Paso, and Houston, TX. This growth is attributed to their different approach to the roofing industry and a high level of customer service and quality of work.
APOC is the commercial roofing division of Gardner Industries and has been successfully working with facility managers, building owners, and property managers since the 1960s. Their extensive research and development, technical expertise and dedication to the customer, have resulted in a high-performance product line that provides dependable assets with extendable warranties and lower life-cycle costs. The Gardner family of companies is proud to support a wide variety of national charitable causes and institutions including the American Red Cross and the Children's Miracle Network. This will be the fourth year in a row APOC has partnered with RoofCARE in the Roof Angel Project.
RoofCARE and APOC hope this project inspires others to follow in their footsteps, by donating and volunteering however they can, to the Turning Point Center and other non-profits. They believe our communities will be a better place if we all give back and help the less fortunate.
Please contact JJ Blea, Houston Branch Manager at RoofCARE, with any questions (713-987-4978 or jj@roofcare.us).
Source: RoofCARE
Share:
---
Categories: Non Profit
Tags: Apoc, donating, giving back, homeless, Houston, philanthropy, project, repairs, Roof Angel, Roofcare, Senior Care, Turning Point Center
---