Turn Heads at Prom 2023 With Gentleman's Guru New Exotic Prom Suits and Luxury Tuxedos
Press Release
•
Feb 28, 2023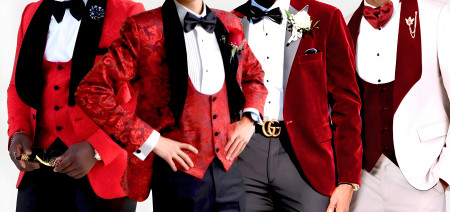 LAS VEGAS, February 28, 2023 (Newswire.com) - Gentleman's Guru, the gold standard in high-end men's formal wear, is excited to announce the launch of its new collection of exotic prom suits and luxury prom tuxedos. This collection features handcrafted garments embroidered with intricate designs and made with the finest materials.
The collection also includes a variety of styles, including shawl and peak lapel suits, as well as slim-fit and custom-sized options to ensure a perfect fit for every customer. The collection is designed to cater to the most discerning tastes, with styles that are truly one-of-a-kind and can't be found anywhere else.
"We are thrilled to unveil our new collection of prom suits and tuxedos," said Yassine Lamari, CEO of Gentleman's Guru. "We understand that prom is a special occasion, and we want to ensure our customers look their best. Our new collection is designed to give prom kings the style and elegance they deserve."
The collection is available for purchase now on the Gentleman's Guru website.
Gentleman's Guru is committed to providing customers with the highest quality formal wear and the best possible customer service. The company has built a reputation for excellence over the years, and its new collection of prom suits and tuxedos is no exception.
For more information about Gentleman's Guru's new collection of prom suits and tuxedos or to purchase online, please visit the company's website at https://www.gentlemansguru.com.
About Gentleman's Guru:
Gentleman's Guru is the gold standard of high-end men's formal wear. The company offers a wide range of suits, tuxedos, and accessories for all formal occasions. With a commitment to quality and customer service, Gentleman's Guru has established itself as one of the premier formal wear providers in the industry.
Source: Gentleman's Guru