TunesGo Launched a Galaxy S8 Worldwide Giveaway With an Android Security Test Against Virus
Join The Test To Check Your Android Security Level Against Virus To Win A Brand New Samsung Galaxy S8
Press Release
-
updated: Aug 29, 2017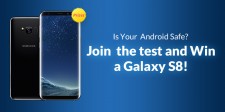 SHENZHEN, China, August 29, 2017 (Newswire.com) - In the last few years, there has been a drastic shift in the global cybersecurity scene. Each year, more than 250,000 new Android malwares are created. It has been observed that more than 300 million Android devices have been affected by a malware. In spite of this global threat, around 83 percent of Android users haven't taken an added security measure to protect their device. This makes the need for an extensive Android virus survival guide more evident than ever.
TunesGo has recently come up with a comprehensive Android virus survival guide including a giveaway of Samsung Galaxy S8. After taking a quick test related to their Android device security and sharing it on social media, one can win a brand new Samsung Galaxy S8. This will let Android users diagnose the security level on their device while getting a chance to win Samsung's new smartphone.
If an Android device has been infected by a malware, then it is likely to depict these signs:
 There would be a sudden appearance of multiple pop-ups while using the device. Sometimes, users get a pop-up message that redirects them to an unsafe URL.
The data usage on an infected device often spikes up, even when the phone is idle.
 It can cause an unexpected change on network's monthly billing as well.
The fast draining of battery is another prominent sign of an infected device.
There can be an unexpected overheating of Android phone and its battery.
A malware often tampers with the processing speed and performance of a device.
There can also be an unfamiliar appearance of apps, messages, and phone calls on an infected Android device.
After getting familiar with various signs of an infected Android device, one can easily detect if they have any malware on their smartphone. Additionally, TunesGo has also come up with a comprehensive Android security test right here. It includes a handful of questions that will help you examine the security level on your device.
Simply answer some basic questions related to the security level of Android device and share the results on Facebook to be eligible for the giveaway. With new Samsung Galaxy S8 up for grabs, it is certainly the kind of giveaway that no Android fan would like to miss.
In order to participate in the giveaway, one needs to answer a few questions and provide their name and email id. Afterward, the unique result card should be shared on Facebook. The post should include #TunesGo and mention @dr.fone. Additionally, one should also like the dr.fone Facebook page and have at least 10 likes on their update to be eligible for the giveaway.
It is undoubtedly a great way to examine the security level on an Android device while getting a chance to win a Samsung Galaxy S8 at the same time. All the readers are encouraged to participate in the contest to win a brand new Galaxy S8. The contest result would be declared on Sept. 30, 2017.
The TunesGo Android security check questionnaire can let an Android user know about the vulnerability on their device. Furthermore, these added steps can be taken to protect an Android device from a malware attack:
Install an anti-malware security app on Android device. BitDefender, Ccleaner, and Avast Mobile Security & Antivirus are some popular security tools that can be used to protect a device from a malware attack.
While downloading apps from a third-party source, one should be extremely cautious. Ideally, users are suggested to simply disable the download from unknown sources for added security.
Try not to download any sensitive information while being connected to a public WiFi. Most of the public and freely available WiFi networks are affected by plenty of malwares.
Even after installing an app from Google Play, be careful while granting different permissions to it.
Take immediate measure to remove malware from an infected device. This can be done by restarting the device in safe mode and manually deleting the infected apps.
Wondershare TunesGo: A complete Android management tool
Besides taking the above-stated security measures, one can also take the assistance of Wondershare TunesGo to manage their Android device. It is a must-have phone manager that can be used to transfer various data files between a computer and an Android device. Compatible with every leading version of Android, it has a dedicated desktop application for Windows and Mac. Supporting several data types like photos, videos, audios, messages, contacts, and more, it also has lots of added features as well. All of this makes TunesGo an ideal tool to manage an Android device.
Check the security status on an Android smartphone and participate in the TunesGo giveaway to win a Samsung Galaxy S8.
Source: Wondershare
Share:
---
Categories: Phone, Cable, and Internet Services, Consumer Electronics, IT Security, Mobile and Smart Phones, Information Technology
Tags: Android Security, Android Virus, Malware, S8 Giveaway, Samsung Galaxy S8, Security Test, Smartphone Security, Virus Attack
---