Tulsi Gabbard Calls on Citizen Co-sponsors to Help Pass OFF Act
Press Release
-
updated: Nov 1, 2017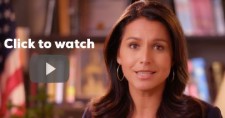 WASHINGTON, November 1, 2017 (Newswire.com) - Hawaiʻi Congresswoman Tulsi Gabbard released a video today calling on citizen co-sponsors to join the fight to pass her bill, the Off Fossil Fuels for a Better Future Act (H.R. 3671 - The OFF Act), which would transition the United States away from its dependence on fossil fuels to 100 percent renewable energy by 2035.
The OFF Act eliminates tax breaks for the fossil fuels industry and provides workers with the resources and support they need to become a part of a new clean energy economy. The bill increases U.S. competitiveness by investing in clean energy technologies, creating jobs, and providing resources and training programs to ensure the new skilled workforce is the best it can be. Currently, the bill has been co-sponsored by 14 Members of Congress and supported by more than 400 clean energy, climate change, and environmental justice organizations.
In her video released today, Congresswoman Tulsi Gabbard says, "EPA Administrator Scott Pruitt continues to make backroom deals with fossil fuel industry giants at the expense of our environment and the well-being of the American people. That's why I'm working to pass my bill, the Off Fossil Fuels for a Better Future Act, which would transition our country away from fossil fuel sources to 100 percent renewable energy by 2035. To begin to heal our planet and strengthen our future, we must break our addiction to fossil fuels by investing in clean energy. Passing my bill, the OFF Act, will also increase our country's global competitiveness by creating domestic clean energy technologies, jobs, and training programs." Read the full transcript here.
In a message released on Medium this morning, Congresswoman Tulsi Gabbard elaborates on the importance of passing the OFF Act.
Background:
Tulsi Gabbard has served as the U.S. Representative for Hawaiʻi's Second Congressional District since 2013. At the age of 19, she co-founded Healthy Hawaiʻi Coalition, a nonprofit grassroots organization whose mission is to protect the environment and improve individual and community health. Tulsi has a proven record of defending our air, land, and water and has been endorsed by the Sierra Club, Ocean Champions, and League of Conservation Voters (which gave her a "lifetime" pro-environment score of 100 percent), among others. Tulsi has consistently voted against the keystone pipeline and other threats to the environment, while advocating for legislation that combats climate change, supports clean energy, and protects the planet.
More Information & Updates from Tulsi Gabbard:
Media Contact
Erika Tsuji
(808) 861-0793,
aloha@VoteTulsi.com
Source: Tulsi Gabbard
Share:
---
Categories: Environmental Protection, Government News, Politics
Tags: bio, Citizen sponsors, congresswoman, environment, OFF act, tulsi gabbard, who is tulsi gabbard
---
Related Files
Additional Links