Tulsi Gabbard Calls for Real Reform to the Democratic Party
Press Release
•
updated: Oct 30, 2017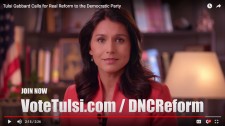 WASHINGTON, DC, October 30, 2017 (Newswire.com) - Hawaiʻi Congresswoman Tulsi Gabbard released a video today that criticizes the recent actions by Tom Perez and the Democratic National Committee (DNC), which she says "cast out those who want to strengthen and reform the party, while continuing to allow lobbyists and consultants a prominent seat at the table."
As she has been for more than a year, Tulsi Gabbard, formerly a DNC Vice Chair, again called for ending the undemocratic system of superdelegates and putting a stop to the issues surrounding a lack of transparency and inclusion that has plagued the party. Instead, she says, "The party should be enacting open or same day registration in Democratic primaries to ease and encourage voter engagement."
The DNC must put people over profits and progress over special interests.

Tulsi Gabbard, Congresswoman
In a Medium post released this morning, Congresswoman Tulsi Gabbard elaborates on the deep divides within the Democratic Party and the importance of reforming the DNC. In her video, Tulsi Gabbard says the DNC must put people over profits and progress over special interests.
Background:
Tulsi Gabbard is a Democrat who has served as the U.S. Representative for Hawaii's Second Congressional District since 2013. She was Vice Chair of the DNC from 2013-2016, when she resigned to support Bernie Sanders for President. She has been calling for an end to superdelegates in the Democratic Party's nomination process and open Democratic primaries. Tulsi Gabbard is a Major in the Hawaiʻi Army National Guard and has served on two Middle East deployments. She is a member of the House Armed Services Committee and the House Foreign Affairs Committee.
The video can be viewed & downloaded here:
https://www.votetulsi.com/node/33049
More Information & Updates from Tulsi Gabbard:
https://twitter.com/tulsigabbard
https://www.facebook.com/VoteTulsi
Media Contact
Erika Tsuji
aloha@VoteTulsi.com
(808) 861-0793
Source: Tulsi Gabbard
Related Media
Additional Links