Tucker Sadler Architects and Swinerton at the Finish Line for the Opening of Sun Outdoors San Diego Bay RV Resort in Chula Vista, California
Press Release
•
updated: Mar 31, 2021
Architectural and Construction Masterplan Creates a New Luxury RV Resort Destination in Chula Vista, California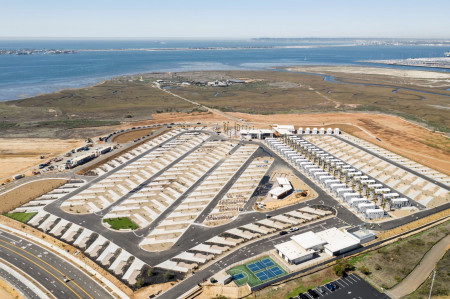 CHULA VISTA, Calif., March 31, 2021 (Newswire.com) - Chula Vista, California, will soon be at the top of luxury RV resort destinations in Southern California. Opening April 1, 2021, this glamping destination will be one of several new developments in Chula Vista.
The Port of San Diego has been in planning efforts with the City of Chula Vista for many years to revitalize the Chula Vista Bayfront into a series of developments that will lead to the 535-acre, cohesive masterplan. Sun Communities, a fully integrated real estate developer of manufactured homes and RV communities since 1975, is the first of many new developments on the renewed bayfront. The new RV resort, Sun Outdoors San Diego Bay, will be the initial project of the collective developments that has come to fruition.
"I am pleased to welcome Sun Outdoors RV Park to our city," said Mayor Mary Casillas Salas. "It is the first of many projects that will transform Chula Vista's bayfront for the benefit of our visitors and our residents."
Tucker Sadler Architects, located in San Diego, California, was retained by Sun Communities to work on entitlements with the City of Chula Vista and Port of San Diego, along with the expansive 19-acre space planning, and architectural design.
"Sun Outdoors San Diego Bayfront is not the typical RV resort. It offers luxury amenities that you would experience at a high-end hotel on the bayfront in an affordable alternative to conventional accommodations that will change the way people vacation or staycation. Tucker Sadler Architects is thrilled to have worked with a great team on the Sun Outdoors San Diego Bay RV Resort and be involved in the Chula Vista Bayfront development," said Greg Mueller, CEO, Tucker Sadler Architects.
Swinerton, also located in San Diego, was hired to provide project management and construction buildout for the Sun Outdoors San Diego Bay RV Resort masterplan. Swinerton is a commercial construction company that provides services throughout the United States for hospitality, commercial office, retail, multi-family residential, healthcare, education, renewable energy, life sciences, and the entertainment sectors. Swinerton's extensive construction and project management experience brought the long-awaited vision to life.
"Swinerton is proud to have worked with Sun Communities, Atwell Group, Tucker Sadler Architects and Rick Engineering on the first project to advance the Port of San Diego's Chula Vista Bayfront Redevelopment. Twenty-five years in the making, Sun Outdoors San Diego Bay is a unique and thoughtful step for the Chula Vista Bayfront and proves to be an extraordinary addition to San Diego," says Stephen Campion, Swinerton Project Executive
Tucker Sadler Architects' design experience along with Swinerton's expansive building capabilities, the Port of San Diego and City of Chula Vista's vision of revitalizing the waterfront, bringing greater awareness to the surrounding tidelands and Sun Communities development expertise, have all come together seamlessly to make this location an upscale resort with RV sites, mobile vacation rental units and resort-style amenities. Holistically, these elements were designed and planned to make Sun Outdoors San Diego a vacation destination in paradise.
The luxury RV resort will include RV sites, modern fully furnished mobile vacation rentals, high-end amenities including clubhouse with kitchen and bar, restaurant, resort-style pool with children's splash pad, spas, skydeck, fitness center, arcade, basketball and pickleball courts, large firepit, and beautifully landscaped pedestrian pathways and connectivity to the overall masterplan.
The Port of San Diego Board of Port Commissioners' Ann Moore said, "Sun Outdoors San Diego Bay is a beautiful addition to the Chula Vista Bayfront. It will soon be a destination spot with great public access, recreational opportunities, and bay and mountain views. This is just the start of what's to come for the South Bay."
About Tucker Sadler Architects
Tucker Sadler Architects is an award-winning full-service architectural firm. Since 1957, Tucker Sadler Architects has provided national and international architectural design, planning, and development services for the public and private sectors. Tucker Sadler Architects' diversified portfolio includes mixed-use developments and master plans, high-rise residential towers, entertainment venues, hospitality, health care, education, restaurants, research facilities, civic projects, and aviation projects. For more information, please visit www.tuckersadler.com.
About Swinerton
Swinerton provides commercial construction and construction management services throughout the United States and is a 100% employee-owned company. Recognized nationally since 1888, Swinerton is the preferred builder and trusted partner in every market it serves — proudly leading with integrity, passion, and excellence. For more information, please visit https://swinerton.com/.
PUBLIC RELATIONS CONTACT:
Kimberley Monday, Monday Agency, Kimberley@MondayBiz.com
Source: Tucker Sadler Architects
Related Media