Architectural Designer Greg Mueller's Outdoor Event Venue Design The Shell® Set to Become San Diego's Iconic Landmark
Press Release
•
updated: Feb 23, 2021
The Shell, San Diego's Waterfront Outdoor Event Landmark, is Nearing Completion and Expected to Open in Summer 2021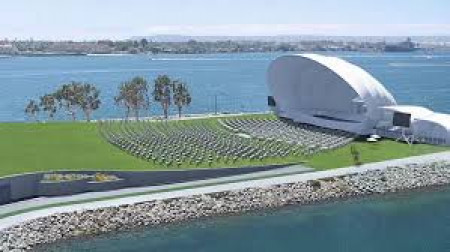 SAN DIEGO, February 23, 2021 (Newswire.com) - Tucker Sadler Architects CEO Greg Mueller's design vision for The Shell was to create an iconic outdoor performance venue and vibrant public park for San Diego residents and visitors alike. The design of the venue was inspired by the shape of a seashell and fusing the ocean-centric elements of the beautiful San Diego waterfront and modern influences that complemented the existing downtown.
"The long-awaited San Diego Symphony, The Shell, is nearing completion and the design vision is one that we're very proud of with the achievement of a purposeful landmark that incorporates the beautiful San Diego Harbor, existing downtown development, and building a place that will bring the public to the waterfront to experience the park and the magic of world-class music performances and venue," said Greg Mueller.
The Shell and Embarcadero Marina Park South project is a true collaboration between the San Diego Symphony and San Diego Unified Port District, providing a long-term land lease that allows public park improvements and permanent performance structure to hold the San Diego Symphony's outdoor series. The project was unanimously approved by the California Coastal Commission and is the first of its kind on the West Coast. Among the many project improvements, the widened promenade around the venue will open to the public, including during event hours.
"The completion of the Bayside Performance Park located at San Diego's Embarcadero Marina Park South will provide a permanent, highly innovative outdoor concert venue that will have a transformation impact on San Diego as an iconic symbol for the San Diego waterfront," said Ann Moore, Port of San Diego, Chair of Board of Port Commissioners.
The outdoor waterfront event venue features a permanent, 4,800-square-foot stage covered with The Shell structure that provides an architectural acoustic superior sound. The venue will accommodate up to 10,000 seats and has a backstage dressing area, restroom facility, green room, improved guest parking, food pavilions, improved guest seating, enhanced open spacing, box office, and dining areas.
The 10.8-acre public park transformative improvements include public restrooms, basketball courts, public outdoor picnic area and pavilions, lawn event space for public use, improved ADA access areas, park area, and perimeter public walkways. The lawn area of The Shell will be open on non-event days for the community to enjoy and the enhanced adjacent park will be open year-round.
About Tucker Sadler: Tucker Sadler Architects provides planning, development, architectural and interior design services for the public and private sector such as education, hospitality, entertainment, aviation, research facilities, health care, high-rise residential towers, mixed-use developments and master plans. www.tuckersadler.com
Public Relations Contact:
Kimberley Monday l Monday Agency l Kimberley@MondayBiz.com l 310-703-7781
Source: Tucker Sadler Architects