TSplus Remote Access Turns Any Windows App Into WEB Access
TSplus has released a new light-hearted video that illustrates some of the challenges facing today's businesses and how the remote access solutions offered by TSplus can help.
Press Release
-
updated: Apr 25, 2019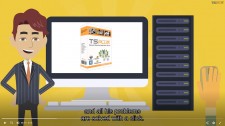 PRAGUE, April 25, 2019 (Newswire.com) - For the last 10 years, TSplus has offered Remote Desktop solutions designed to provide secure remote access from anywhere. With TSplus installed on their servers, organizations are able to improve security, centralize app management and reduce IT overhead.
Today, TSplus enables organizations to deliver fully functioning virtual Windows desktops and the applications that employees need, on any type of device. It allows users to be productive anywhere by providing a Windows desktop experience accessible via web browser from workstations, tablets and smartphones, regardless of the operating system.
Easy to deploy, configure and maintain, TSplus is a great alternative to Parallel Ericome and Citrix. It makes remote access quick, easy and affordable. The success of its smart and scalable solution has allowed TSplus to expand its scope of actions to Web Remote access using the most modern HTML5 technology.
In order to explain simply and clearly all the benefits of its solution to today's business challenges, TSplus has released a new video produced with the help of Feverr.com.
It takes Adrian as an example. Adrian is a retail store manager. He needs to follow up on sales and maintain an up-to-date inventory. For this, Adrian requires access to up-to-date accounting and inventory data located on the head-office servers.
The video shows how simply by setting up TSplus on the head-office server, Adrian can make his accounting software WEB accessible, without a single line of programming script.
This single decision is a game changer for Adrian's business: now branch users can access the accounting app from wherever they are, using the device of their choice. No client installation is necessary. TSplus' secure private cloud solution hosts all the data in one place, making it easy to keep it updated. The built-in universal printer allows users to print any document locally.
With better information and better access to that information, Adrian can manage his stores more efficiently than ever.
When the video ends, the message is simple: 
For organizations who want to improve efficiency like Adrian, all they have to do is download and try the TSplus Remote Access solution for free.
TSplus concludes with its slogan: "Do Business Better"
TSplus is the best and most secure alternative to Citrix, GO-Global and Ericom AccessNow.
"At TSplus, we focus on a single driving principle: making the world's apps and data secure and easy to access – Anywhere. At any time. On any device or network. We believe that our technology can free organizations and help them to push the limits of productivity and innovation, as well as give IT the peace of mind that critical systems will always be accessible and secure. Everything we do is focused on our core values: simplicity, effectiveness, innovation, security and accessibility. Since 2007, day after day, TSplus accomplishes this mission by building the world's best integrated technology services for secure delivery of apps and data – anytime, anywhere," said John Davies, TSplus founder and CEO.
To know more, visit www.terminalserviceplus.com.
Source: TSplus
Share:
---
Categories: Cloud computing
Tags: citrix alternative, cloud computing, cloud solution, ericome alternative, html5, RDS, remore desktop solution, remote access, remote desktop software, remote work
---