TSplus Products Updates Now Accessible in Real-Time With RSS Feeds
Press Release
•
Apr 5, 2023
Last month, TSplus announced the creation of RSS Feeds to follow up on product development. This new flow of information, already introduced in the company for a week, is also designed to please customers and bring additional benefits.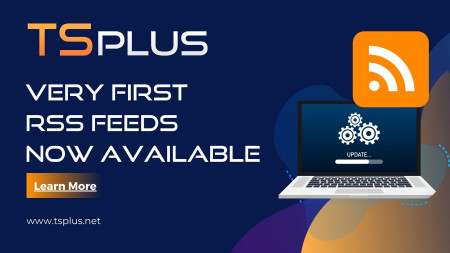 IRVINE, Calif., April 5, 2023 (Newswire.com) - Starting from March 27, users can now subscribe to TSplus' RSS feeds. The development team has created feeds for each of TSplus' products, including Remote Access LTS versions. These feeds summarize the improvements and fixes for each new version released. Every update, even the tiniest development, will be automatically updated in the feed, and subscribers will be instantly notified. Partners and users can therefore stay informed with access to up-to-date, near-real-time data.
Here are the RSS feed links:
Originally intended for internal use to improve information circulation from the technical department to the rest of the company, the TSplus team hopes that this tool will also be useful for their partners and resellers.
Keeping TSplus Software at Its Best With the Support and Update Service
The available information about regular releases and changes is expected to convince an increasing number of TSplus customers to purchase the Support and Update service yearly subscription. Alongside the free, automatic security updates and fixes regularly applied to each product, the Support and Update service is the best way to benefit from all the great enhancements and new features frequently added to the software.
As an example, the last Advanced Security major update includes new Hacker IP Protection, while Remote Support recently received major technical improvements and a redesign aimed at providing a better user experience. Soon, a new version of Server Monitoring will be released, which can be used to monitor Linux servers.
The TSplus Support and Update service is available for purchase with any TSplus software from their online store: https://tsplus.net/pricing/.
Source: TSplus Corp