TSplus Releases a Minor 11.30 Update
Press Release
•
updated: Mar 28, 2018
TSplus keeps developing its star software for the benefit of the greatest number. Yesterday a new version has been uploaded. This 11.30 release is a minor release. Yet, it includes improvements which should arouse the interest of all TSplus customers and Remote Desktop users.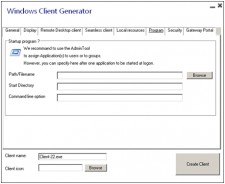 PRAGUE, March 28, 2018 (Newswire.com) - For the very first time, Administrators can specify the Start-up Program Path for TSplus, along with the Directory and its parameters. To do so, just check into the Client Generator tile: this new option can be filled in the "Program" tab.
For sake of better clarity and consistency, the Gateway tab is organized in a different way. It now also displays the two Farm Manager tiles that could be found previously in the Server Tab. This change makes the navigation more handy and more logical.
Discover the multi-languages TSplus App
Unless they have missed the news, mobile users are enjoying for the last month the great functionalities of the very first TSplus App for mobile.
This App is such a big and expected progress for all TSplus' customers and remote workers. It allows anyone with an Enterprise or Mobile Web Edition to easily access his remote applications or desktop from his mobile in seconds, with a simple finger touch. The App's look-and-feel is so handy, responsive and offering very detailed settings to fully adapt its behavior to a Smartphone or a Tablet's specificities.
Moreover, the TSplus mobile App exists in multi-languages. For example, the most recent addition has been the Chinese (simplified), based on a translation made by TSplus natives' partners.
The App can be downloaded for free from any mobile store, from Google Play to Apple Store, Windows and Linux! To find it, just type "TSplus" in the research bar.
Requirements:
Free for existing TSplus Customers,
The user must have one of the latest versions installed: 11.20 or 11.30
The 11.30 release is a minor update. However, we recommend downloading this update.
For any existing system, run https://dl-files.com/UpdateRelease.exe or download and try TSplus 11.30 for free during 15 days.
Source: TSplus
Related Media
Tags
Additional Links