TSplus Improves Your User Experience: Introducing New Server Settings
Press Release
•
updated: Jan 17, 2017
TSplus Remote Application Server offers unique technology helping IT professionals achieve ultimate productivity without limits. The Development team is constantly bringing innovations to improve your user experience. In order to increase TSplus customers' satisfaction, two more options have been recently added to Session Opening settings.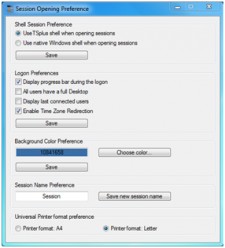 Paris, France, January 17, 2017 (Newswire.com) - Enhance your Terminal Services Experience
Microsoft Windows Terminal Services (also known as Server Based Computing or Thin Client architecture) is the most cost effective method of application delivery for small-medium sized businesses up to Enterprise Level organizations. TSplus provides you a quality of service beyond that: it is designed to make the most of a Windows Terminal Services deployment by eliminating the complexity and leveraging the most recent enhancements to the Microsoft® Remote Desktop Protocol (RDP) for a fraction of its price. TSplus adds indispensable management capabilities and scales to accommodate growing numbers of users, applications and servers, securely, reliably, and cost-effectively.
End-users will enjoy many benefits, with at least 4 ways to connect to their Remote Desktop:
Full Remote Desktop
Seamless Connection: a familiar User Experience with virtual applications appearing like local applications (on their desktop with a transparent color), which eliminates the need for user training
Remote app mode, with the Floating Panel or Remote Task bar: easy and Intuitive Access to remote and local applications
TSplus Web Portal with HTML5 client: Fast, reliable and always available access to applications. Your users save time and memory.
Easily Manage your end-users Environment
TSplus AdminTool is a unique and simple toolkit that allows the Administrator to centrally manage its server's configuration. This includes the settings of the remote clients' sessions. The easy-to-use interface offers you many options to personalize the environment and enhance the user experience:
In the Server tile, you can find the "session opening preference": it allows you to choose your shell session preference, your logon preferences, and the background color of your sessions.
From now on, you will see that three logon preferences are enabled by default:
The TSplus native Shell.
The "Display progress bar during logon".​
The "Enable Time Zone Redirection" option, which enables the client computer to redirect its time zone settings to the Remote Desktop Services session. If you enable this policy setting, clients that are capable of time zone redirection send their time zone information to the server. To know more, read TSplus Press Release related to Time Zone Redirection feature.
Besides, the Universal Printer format preferences include a new option: the format by default is "Letter" but you can now switch and define it to "A4" format. Of course, you can still decide to print on a different format, using the print preview feature: it will display a preview of your print job in your local pdf reader, allowing you various printing options. You can also use standard printer redirection for this purpose.
On the users' side, TSplus is bringing the best experience. It is set up in minutes: they just have to connect with TSplus to their user account and that's it. They are up and running.
TSplus helps one spend your time where it matters most!
TSplus software is an integrated solution to virtualize your Applications, Desktops and data. With TSplus, one is able to publish applications and deliver remote and virtual desktops to any device in a network, anywhere.
You can find all these changes in the latest 9.70 Release. Try it for free!
About TSplus:
TSplus is a privately held company. Since 1996, TSplus is specialized in remote-access technology, continuing to expand its experience and expertise in deployments of all sizes.
TSplus is the most cost-effective and easy-to-use alternative to Citrix. TSplus is providing Web Portal, HTML5 client, Session Management, Load Balancing, Universal Printer, Seamless Remote Application, Application Control, RDP Defender and much more without the complexity of Citrix.
For any questions, comments, suggestions or sales inquiries please send an e-mail to floriane.mer@terminalserviceplus.com who will be pleased to answer you.
Source: TSplus
Related Media