TSplus Expands Support Services
Press Release
•
updated: Feb 27, 2019
The release of TSplus version 12 brought big changes. With big changes can come big questions. The development team at TSplus understands this and has built a completely new support infrastructure. Additional support staff have been added and a new ticketing system has been implemented. Even more exciting is the introduction of new online help tools. Keep reading for further details!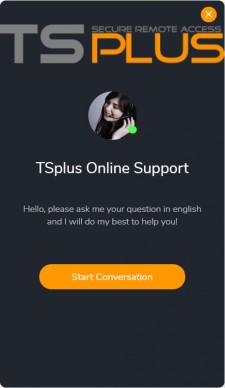 PRAGUE, February 27, 2019 (Newswire.com) - ​Designed with an eye toward increased user satisfaction, the new online help tools are an illustration of just some of the many ways that TSplus continues to pursue the dual goals of Quality and Professionalism in 2019.
Keeping Support on the Cutting Edge.
In a December's announcement, TSplus detailed a freshly redesigned online support portal. Hosted on FreshDesk, the new support portal is designed to provide high-quality service and rapid resolutions. The new support portal gives both customers and support agents new options and tools for a more efficient support process.
As a first step, the online documentation has been completely rewritten to make it simpler, clearer, and easier to use. Additionally, TSplus has rolled out a new interactive chatbot!
Find Information in a Snap with TSplus' Online Documentation 2.0!
On the TSplus "User Guide" page, visitors will now find an enhanced version of the technical documentation. The marketing and web development teams have combined their efforts to offer a better design and organization of information. The goal of this new presentation is to simplify the search for information by organizing different sections by features. All subparts and categories are now displayed dynamically on a single page, with navigation made easy thanks to the table of contents located on the left side. A search bar at the top of the page helps users find the right documentation even faster with a keyword search.
The User Guide webpage now gives direct access to all products documentation - TSplus, RDS-Knight and Server Genius. Everything is in the same place. This creates a smoother flow of information, especially for customers who are using more than one TSplus product!
Access to the central support page can be easily integrated into TSplus partner websites just by adding the URL. When the documentation is updated at TSplus, those updates will be reflected in the embedded link. This allows resellers and regional support staff to always have the most recently updated technical information available. Of course, it is still possible to download the full User Guide in PDF format.
TSplus Introduces New Support Agents
Throughout the TSplus website, visitors will find a new feature located at the bottom-right corner of their screen. One click on the 'Chat With Us!' button gives direct access to the new TSplus Intelligent Support Agent.
The Intelligent Support Agent is a chatbot, created as an additional Support channel, to streamline tickets entries and help improve the quality of service by reducing the workload to specific issues requiring human intervention.
This brings us to Marcus, the dedicated support engineer responsible for teaching the Intelligent Support Agent how to be a proper TSplus Support Agent.
Marcus' first mission at TSplus was to train the ISA. He had to teach it everything there is to know about TSplus, RDS-Knight and Server Genius. After three months and a massive amount of data input, AI training and testing, the new Intelligent Support Agent is now online and capable answering approximately 100 commonly asked questions with quick, detailed and most importantly, correct answers. The Intelligent Support Agent will receive instant access to all of the most recent information about TSplus, the moment it becomes available. The constant flow of new information, combined with the ISA's inherent learning capabilities make it a powerful support tool.
Marcus explains: "The best way to use the Intelligent Support Agent chatbot is to ask simple, detailed questions, such as 'how to rehost my license' or even just 'rehost'. If you have a question about an error message, just write down the part of the error message that makes sense, such as 'internal error', or an error number. The chatbot is still young and is learning more every day - it will be much more intelligent and knowledgeable as time goes by! "
However, when it comes to complex technical questions, it is strongly recommended to open a Support ticket.
With the introduction of TSplus Version 12 and this array of modern tools, TSplus continues to set the standard for modern Remote Access Solutions, merging security and reliability with a renewed focus on Quality and Professionalism.
TSplus is the best and most secure alternative to Citrix, GO-Global, and Ericom AccessNow.
"At TSplus, we focus on a single driving principle: making the world's apps and data secure and easy to access – Anywhere. At any time. On any device or network.We believe that our technology can free organizations and help them to push the limits of productivity and innovation, as well as give IT the peace of mind that critical systems will always be accessible and secure. Everything we do focus on our core values: simplicity, effectiveness, innovation, security, and accessibility. Since 2007, day after day, TSplus accomplishes this mission, by building the world's best-integrated technology services for secure delivery of apps and data – anytime, anywhere," said John Davies, TSPlus Founder and CEO.
Source: TSplus
Related Media
Tags
Additional Links