TSplus Announces RemoteApp Availability With Windows 10
Press Release
•
Sep 16, 2016
TSplus , the best Citrix alternative, has recently published a new release. With its Release 9.50, TSplus optimizes the overall Windows system performances and the user can upgrade from W7 to W10 without losing RemoteApp support.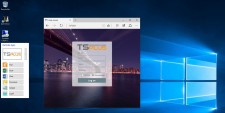 Paris, France, September 16, 2016 (Newswire.com) - Extending the support of RemoteApp with TSplus is a "must have" new feature after upgrading to Windows 10.
TSplus RemoteApp allows publishing of single applications instead of a complete Windows desktop remotely. Applications published with TSplus RemoteApp appear on the client desktop as if they were local with their own start menu entry, taskbar icon and resizable window.
This amazing feature works exactly like a Citrix or MS RDS application, without the need to open a Remote Desktop window. Very easy to install and to use, the TSplus RemoteApp is the powerful publishing tool perfectly adapted for running remote applications on a local computer.
Inside or Outside the Web Browser?
From the Web Portal logon page, the user can download and install the TSplus RemoteApp plug-in. With this TSplus Windows plug-in, the remote application is started "Outside the Web Browser".
The user can also prefer to select the TSplus HTML5 client. It is a pure web solution that does not requires any plug-in and the application are started "Inside the Web browser".
Advanced features to start remote applications
Furthermore, TSplus is providing 4 different solutions to start remote applications:
Microsoft Remote Desktop: The user will see his Windows Remote Desktop
TSplus Remote Taskbar: The user's applications are displayed within a nice looking Taskbar. The administrator can select from 5 different taskbar themes.
Floating Panel: A remote Application Panel is display on the left side of the user screen.
Remote Application: Remote applications will be automatically started at logon.
TSplus Edition 9.50 is available now and the 15 days trial version can be downloaded free!
About TSplus
TSplus is the most cost-effective and easy-to-use alternative to Citrix. TSplus is providing Web Portal, HTML5 client, Session Management, Load Balancing, Universal Printer, Seamless Remote Application, Application Control, RDP Defender and much more without the complexity of Citrix.
To find out more about the product and its amazing features, please visit TSplus website.
For any questions, comments, suggestions or sales inquiries please send an e-mail to floriane.mer@terminalserviceplus.com who will be pleased to answer you.
Source: TSplus
Related Media