TSplus 2015-2016 Satisfaction Survey Yelds Positive Results
TSplus is pleased to announce the results of its Customer Satisfaction Survey and to extend a big thank you to everyone who contributed to this market intelligence review. We received 570 answers, and we have been awarded with a 95.8% overall satisfaction rate. TSplus hereby announces the detailed results.
Press Release
-
Sep 9, 2016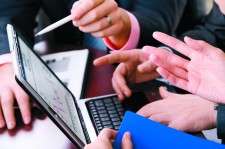 Paris, FRANCE, September 9, 2016 (Newswire.com) - ​​In June 2015, TSplus released an on-line survey to find out about its customers satisfaction and to acquire intelligence about the product use and the provided support services. The survey, conducted as part of TSplus marketing strategy, was accessible directly from Terminalserviceplus.com web site. It has been completed 12 months later and it reports high level of satisfaction on all surveys' chapters.
About the  survey participants
The 570 customers who answered the survey were located in 35 different countries. 25% of the participants were from Europe, 9% from the USA/Canada Region. All others were from Latin America, Asia and Australia.
A large share of the respondents were TSplus end users in a wide spectrum of market segment: from Architecture to the Government, through Religion and Engineering sectors. TSplus has been also pleased to receive feedback from TSplus Resellers, System Integrators and Partners.
TSplus customers are happy!
One of the most rewarding results from the survey was to discover that over 77% of the participants declared that TSplus has exceeded their expectations, 69% will recommend TSplus to a friend or to a business associate and 9% were very satisfied. These statistics clearly demonstrates the TSplus added value and it reflects TSplus commitment to offer the best worldwide Citrix alternative.
The company TERRY-MAC.COM wrote: "Having used the equivalent MS before I was surprised at how good this product was for the price. Also the support was faster and more personal."
Tony A., from SHORTCUTS (Australia) wrote: "Apart from being a great product, we love the after sales service/support. We have over 1000 clients using the feature."
The survey is also investigating several aspects of TSplus usage patterns :
TSplus Enterprise Edition (full product) is the most popular one (37%), closely followed by the Mobile Web Edition (28%).
Most of the customers are using a Windows PC to remote connect to TSplus (94%), but many of those users are also pleased to use a tablet or a Smartphone (48%). This result underlines the TSplus Web Application Portal benefit, which enables new business practices: Mobility, Web Access and freedom to work remotely from home or while travelling.
There is a small preference for the Remote Desktop connection (40%) but most of the customers are connecting indifferently with every possible TSplus mode (RemoteApp or HTML5).
The big majority of the customers rated the TSplus Support services as "very good" or "good" (89%).
The quality of the online content (videos, documentation..) has been rated as "very good" or "good" (81%).
Whilst the survey is designed to identify the areas where TSplus needs to be improved, these positive feedbacks re-enforce TSplus belief in the requirement to sustain its investment to improve the quality of delivered product and services. 
"We are pleased with the high level of satisfaction reported by our customers," said John Davies, Terminal Service Plus International's President. "We are committed to excellence in this fast moving world where IT is changing every day and which is becoming more and more demanding. We want to  keep TSplus features and benefits at the top level and to lead the market. We will improve the quality of the support services provided by our dedicated and highly qualified team. This is the most exciting challenge we are sharing with all TSplus partners in the USA, LATAM, Asia and Europe."
Based on this survey experience, the TSplus marketing team decided to prepare a second one which will be opened in the coming months.
TSplus is the most cost-effective and easy-to-use alternative to Citrix. TSplus provides Web Portal, HTML5 client, Session Management, Load Balancing, Universal Printer, Seamless Remote Application, Application Control, RDP Defender and much more without the complexity of Citrix. To find out more about the product and its amazing features, please visit the website and download the 15 days trial version for free.
For any questions, comments, suggestions or sales inquiries please send an e-mail to floriane.mer@terminalserviceplus.com who will be pleased to answer you.
Source: Terminalserviceplus.com
Share:
---
Categories: Business to Consumer, Computer Software, Desktop Publishing
Tags: customer satisfaction, customer survey, mobility, RDP, terminal service, TSplus
---