TSplus 11.70, a Milestone for the Remote Desktop Experience
Press Release
•
updated: Nov 15, 2018
TSplus International released last week a new version of TSplus, which provides the most reliable and easy-to-use solution for publishing Windows applications over the web. The development team is proud to offer their 11.70 version, which adds useful enhancements to the TSplus Web Portal.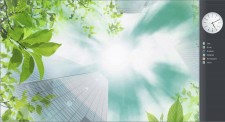 PRAGUE, November 15, 2018 (Newswire.com) - The latest version of Windows 10 is causing headaches among millions of users. The Windows 10 October 2018 Update has brought even more issues and complaints from software editors. Computers freeze, drivers become incompatible, software gets blocked or CPU usage dramatically increases. One bug leads to another, and one fix patch opens up the need for another. This is what is happening with the Windows 10 Update version 1809 which was released in October. While the release had fixed numerous known problems such as user file deletions, it seems to have introduced new ones.
"We have paused the rollout of the Windows 10 October 2018 Update (version 1809) for all users as we investigate isolated reports of users missing some files after updating," says Microsoft on its support site for the Windows Update. Microsoft is now recommending that if you've manually downloaded the October Update, "please don't install it, and wait until new media is available."
At TSplus, we focus on a single driving principle: to make the world's apps and data secure and easy to access - anywhere, at any time, and on any device or network. We believe that our technology can free up organizations and help them increase productivity and innovation, as well as give IT departments the peace of mind that critical systems will always be accessible and secure. Everything we do focuses on our core values: simplicity, effectiveness, innovation, security, and accessibility.

J.Davies, President of TSplus International
In order to protect TSplus customers from these problems, as well as to enhance support of all Windows versions and assure optimal stability even in such unexpected situations, the TSplus development team has invested in system studies, load or stress testing campaigns and system analysis. As a result, their talented developers were able to identify the weak link of the Windows system: the Windows shell.
To each new version of Windows, Microsoft adds more and more features to the Windows shell. It changes the behavior of the Start button, runs useless processes in the foreground, starts user-based system tasks, adds new widgets, uses different drivers, and overall jeopardizes the upward compatibility of Windows apps.
Such enhancements may suit Lambda PC users but for application servers it does not work. A major concern for most companies is enabling productivity by providing easy access to any business app including SAP, CRM, accounting and payroll apps. The role of the server is to provide access to applications from corporate web portals as well as the Intranet and Internet. Companies expect quick application reaction times, an absence of regressions, secure remote access and a high level of user satisfaction.
Adding fancy tiles, support for tactile devices, modern UI, animated widgets, etc. provide no value to the deployment of application servers. The price paid for these so-called "enhancements" is high. It all translates into higher CPU and memory consumption, increased IT consultant costs for tweaking default Windows settings and frequent user training as the GUI evolves, just to name a few. For existing Windows applications, billions of dollars are wasted every year merely adapting the current IT infrastructure to the Windows shell's changing requirements.
TSplus seeks to protect its customers' investments, so its head company, TSplus International, has decided to invest in a technical solution for eliminating Windows shell issues: the TSplus alternate shell.
For many years, TSplus has included an alternate shell technology which provides an efficient "application control" feature. When users start an SAP client, they do not start a remote desktop; they simply start SAP. In doing so, they do not have the ability to browse the server files, nor do they have access to other applications installed on the application server. This is an important feature in terms of security, and all TSplus customers have had it this since 2005.
However, some TSplus' customers want to allow their users to start a remote desktop. In such cases, the Windows shell becomes an issue, and this problem is only expected to get worse in the future. It's anyone's guess as to which Windows shell issues will be added by Microsoft.
For this reason, TSplus decided to enhance its alternate shell technology and to develop its own "alternate remote desktop" display solution. This solution has the appearance of a Windows 2016 Desktop, except that it does not start the Windows shell itself. Rather, it provides a convenient desktop user experience via the TSplus alternate shell. This new solution is integrated into TSplus 11.70 and is based on two products: a custom version of WinXshell, a WinPE desktop-based technology developed for W10, and a custom subset of Open Shell, a widely used solution that mimics the behavior of the Windows Start button.
The 11.70 release is the very first implementation of this new TSplus alternate shell solution. WinXShell has been re-designed according to TSplus expectations. It now provides features as well as a graphical experience similar to Windows 2016's Windows shell, such as the display of the 2016 Start button and task bar. As such, with W10 or 2016, TSplus remote users can enjoy the desktop experience of the latest Windows version without having to deal with all the Windows shell issues.
Saving Windows server resources (e.g. CPU, memory, disk I/O) is especially important in a demanding environment having 50 or more concurrent users connecting to a TSplus server. For such demanding loads, the "WinXshell alternate shell" is the right solution. This is why TSplus uses it as a default setting for TSplus licenses having more than 10 users. The objective is to guarantee optimal stability and the highest level of application performance for installations of all sizes.
This first step for TSplus International marks a turning point for the user experience. The software developper will continue to invest in and enhance this new desktop. TSplus 11.70 is not only the right solution for all of Windows shell's well-known issues, it also paves the way for continued support of future requirements.
TSplus 11.70 Enhances Application Control
For years, the Application Control enables any TSplus administrator to assign applications to a user or to groups. Its value is limitless. When users (local or members of a domain) open their sessions, only their assigned applications start instead of the full remote desktop. In such an environment, the user remote task bar and the Start button are removed. However, users can minimize their application and, in this case, the notification area icons (systray icons) will still be displayed. Up to the last release, this display was hard coded in a fixed position in the working area of a user's screen.
As part of the new developments included in TSplus 11.70, customization of the minimize button display is also enhanced. With TSplus 11.70, it is possible to specify where these minimize buttons are to be displayed (on the right side, the left side or in the center of the screen). The administrator can even decide to display them on the top of the user's screen instead of by default on the bottom.
The TSplus AdminTool has been enhanced to make task bar customization easy and intuitive.
TSplus 11.70 Enhances Web Portal Security
TSplus web portal and its outstanding HTML5 client are the most advanced and cost-effective solutions for publishing any Windows application. The only requirement to remotely start QuickBooks, SAP, your CRM or Outlook when traveling is to use Chrome or Safari. This can be done from a MAC, a smartphone or an iPad with no difference in performance.
Cyber crime is the Internet's 21
st century plague, and vulnerabilities and security issues can put businesses at risk.
The new 11.70 release offers major security enhancements to support the latest releases of Chrome, Firefox, Edge or Safari. The cipher selection for SSL certificates uses HTTPS communication, end-to-end encryption of all CGI communication and even HTTP encryption based on a 512 to 4096 bits RSA encryption.
According to TSplus' latest pen-test audits (hacker penetration test reports), the TSplus 11.70 Web Portal and TSplus HTML5 solution achieve highest level of security possible. However, the company does not intend to stop working on this never-ending challenge. Security is and will continue to be a priority for the development team.
As part of TSplus' commitment to maintain security as its most important objective, the TSplus 11.70 release also embeds the latest version of RDS-Knight Ultimate Security, thereby adding its new anti-ramsomware protection.
For more information, please visit the TSplus website at: terminalserviceplus.com
TSplus is the best and the least expensive alternative to Citrix, GO-Global and Ericom AccessNow.
"At TSplus, we focus on a single driving principle: to make the world's apps and data secure and easy to access - anywhere, at any time, and on any device or network. We believe that our technology can free up organizations and help them increase productivity and innovation, as well as give IT departments the peace of mind that critical systems will always be accessible and secure. Everything we do focuses on our core values: simplicity, effectiveness, innovation, security, and accessibility," explained J.Davies, President.
Since 2007, year after year, TSplus accomplishes its mission by building the world's best integrated technology services for secure delivery of apps and data - anytime, anywhere.
Source: Terminalserviceplus.com
Related Media