TSplus 10.40 Delivers an Enhanced Remote Printer
When it comes to innovation, TSplus is unstoppable. Thinking differently is the best way to inspire and help companies change for the better in their respective industries. After enabling thousands of channel partners and trial customers to use the product, TSplus is making TSplus 10.40 generally available with a universal printing service package used for production deployments.
Press Release
-
updated: Jul 28, 2017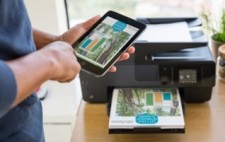 New York, USA, July 28, 2017 (Newswire.com) - TSplus' Remote Desktop software facilitates business productivity by providing the IT department with the fastest and easiest way to manage and securely deliver their apps and data choosing either from the cloud, standalone or hybrid infrastructures. 
 Print Anything from Anywhere
TSplus listens to its customers' needs. It also tries to better understand how they do business in order to provide reliable and powerful Remote Desktops services which will help them tap into their potential and, as a result, transform the way they work by quickly adding value to their company. This requires openness, reliability, transparency, understanding, and problems solving skills. Customers are the reason behind every strategic decision because, at the end of the day, their success is TSplus' success.
The 10.40 Release unveils a completely new Universal Printer that delivers enhanced PDF-based remote printing. This amazing feature gives the freedom to print documents and photos remotely from any location and from any device with exceptional security, performance, and deployment flexibility.
How does it work?
First of all, the TSplus Universal Printer works without installing any driver on the client's printer.
When you select the TSplus Universal Printer, the ready-to-print document will automatically be converted into a PDF file. It will then instantly push the file to the user workstation as if it was opened locally!
Because TSplus is based on fast Virtual Channel connections, the Universal Printer is doing an excellent job without having to map any local disk drives or any local printers.
Not less than 5 advanced printing options can be chosen:
Local PDF preview: the document will be pushed and the local PDF Reader will be opened automatically with the generated PDF file. The user will be free to print it or to save a copy on his local disk drive. It works with any PDF reader installed on the user's PC (Acrobat Reader, FoxIT, Acrobat Writer...).
Printing on a default printer: the document will be automatically pushed to the user's local default printer. The local printing driver is included in the TSplus' connection client.
Selecting another local printer: the user will select one of his possible local printers as a suitable one. The local printing driver is included in the TSplus' connection client.
Streaming mode on the default printer: for larger documents, the PDF file is split into 2 pages per 2 pages transfer/print process. As a result, a 500-page document will quickly start to print without using too much of the bandwidth.
Selection of printing format: the Universal Printer is automatically set according to the Server printer's page format. However, the user can easily change it from Letter to A4. Besides, the TSplus new Universal Printer perfectly handles formats without margins or with narrow ones.
Benefit from quick and silent installation, automatic re-installation, double-checked reception and others extensive features to handle the users printing requirements and to efficiently manage deployments.
TSplus 10.40 is a major release. Test it now for free!
TSplus Universal Printer is included in TSplus Printer Edition, TSplus Mobile Web Edition and TSplus Enterprise Edition.
About TSplus Software:
TSplus International worked over a decade to build the best Citrix alternative and its team is at the top of its game. TSplus has developed worldwide class solutions to web-enable any Windows application. TSplus offers the most advanced solutions for Cloud Computing, Web Portal, and Application Publishing services. Their global solutions range from multinational to SMBs. From HR to Finance or IT, see how quickly you can web enable instantly your Windows apps for collaborating, connecting, and increasing productivity.
For additional information, visit http://terminalserviceplus.com or send an e-mail to 
Floriane Mer
​Marketing Manager at TSplus
floriane.mer@terminalserviceplus.com
Source: Terminalserviceplus.com
Share:
---
Categories: Cloud computing, Computer Software, Printing
Tags: 10.40 Release, new release, print remotely, Remote Desktop, remote desktop services, remote desktop software alternative, Remote Printer, Remote Printing, tsplus 10.40, Universal Printer, universal printing, update release
---