Tryten Partners With Leading Brands to Unlock Potential of Portable Ultrasounds
Tryten partners to offer added adaptability, security, and ergonomics for portable ultrasounds.
Press Release
-
updated: Mar 20, 2019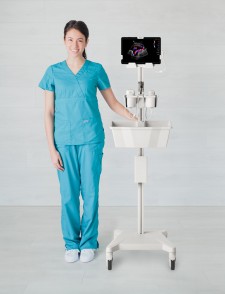 SEATTLE, March 20, 2019 (Newswire.com) - ​Tryten is aiming to make portable ultrasounds easier to use for healthcare staff and their patients. Pairing the Tryten Nova Pro Cart with a portable ultrasound device enables healthcare staff to secure the tablet device and provide over-the-bed hands-free ergonomics so the caregiver and patient do not need to hold or support the tablet. The healthcare professional has a free range of motion to conduct the ultrasound while the tablet is held in place.
"We aim to be more than a supplier, and instead, a true innovation partner for our clients," says Michael Chapman, Marketing Director of Tryten. "We are willing and able to support customization requests and proud of the new and improved workflows the Tryten mobile cart enables for our partners." 
In addition, the Tryten mobile tablet station is a modular hub that keeps accessories and workstation components conveniently together. It will hold the tablet, chargers and extension cord, transducers, gel bottles, and any additional supplies. Accessories can be configured to mount anywhere on the front or back of the cart based on the caregiver's workflow requirements.
For more than 25 years, Tryten has been an integral part of the healthcare innovation strategy for hospitals, clinics and leading service providers globally. The company offers a selection of different Nova mobile stations for a variety of workflows. These mobile stations keep devices and the valuable data they store safe from loss, damage and theft.
Tryten is eligible for partnership with leading brands because they are an ISO 9001:2015 certified supplier. The Tryten products used in portable ultrasound configurations bundles include the Tryten Nova Pro Cart (T2700); Nova Supply Caddy (T2552); Nova Transducer and Gel Bottle Holder (T2553); and Hospital-Grade Extension Cord (575324). This bundle offers mobile ultrasound at a fraction of the price of industry incumbent offerings.
The Tryten Nova Cart is backed by a five-year manufacturer warranty, ensuring that the technology stays operational for years to come. The products are targeted to healthcare innovators, disruptors, and early adopters who are seeking to provide improved service in a more timely and cost-effective manner.
To learn more about Tryten and view their products and accessories, please visit Tryten.com.
About Tryten
Tryten inspires the future of healthcare by unlocking the power of technology with simple, beautiful, clever stations that enable users to engage with mobile devices in a secure, ergonomic, hands-free way. For more information, please visit Tryten.com.
Source: Tryten Technologies, Inc.
Share:
---
Categories: Healthcare Technology
Tags: digital health, healthcare, healthcare devices, healthcare innovations, healthcare news, healthcare professionals, healthcare technologies, mobile ultrasound, Nova mobile stations, portable ultrasound, telehealth, Tryten Nova
---