The Brand-New Tryten Nova Neo Telehealth Cart Will Play a Vital Role for Infant Care in the NICU
Tryten will be debuting the Nova Neo NICU Telehealth Cart at the American Telemedicine Association Conference in April.
Press Release
-
updated: Apr 2, 2019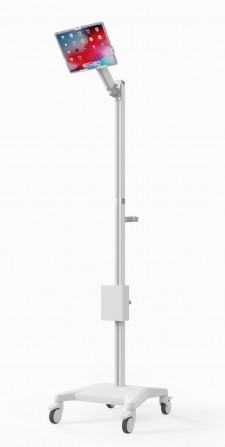 SEATTLE, April 2, 2019 (Newswire.com) - Tryten is launching a brand-new telehealth cart for NICU infant care. The telehealth cart is built on the same Tryten Nova infrastructure with a fully tip-tested base, cable management, and modular accessory channel. However, the Nova Neo features an additional two feet in height and an articulating arm so the viewer can see "above the crowd" in busy NICU situations and also up close when necessary. The Nova Neo will enable significant NICU workflow improvements.
Babies in the NICU need significant care and are often separated from their parents. The Nova Neo cart will enable remote monitoring for healthcare providers, allow specialists to provide critical NICU remote consults, and connect parents to their newborns.
"I know first-hand how important a telehealth cart is in the NICU, which is why we have created it," says Michael Chapman, Marketing Director of Tryten. "My wife and I were separated every night from my newborn, who was in the ICU for six days. It was the absolute worst week of our lives. The Nova NEO enables a bridge for those challenging moments."
Chapman will be debuting the Nova Neo at booth 2108 at the American Telemedicine Association Conference (ATA19) on April 16-17 in New Orleans. ATA19 brings together a vibrant community of healthcare professionals and leaders from an array of healthcare and technology sectors. It's the perfect venue for Tryten to reach healthcare innovators, disruptors, and early adopters who are seeking to provide improved service in a more timely and cost-effective manner.
Tryten has been an integral part of the healthcare innovation strategy for hospitals, clinics and leading service providers globally for more than 25 years. The company offers a selection of different Nova mobile stations for a variety of workflows. These mobile stations keep devices and the valuable data they store safe from loss, damage and theft. The company's existing models — Nova Pro, Nova Go, Nova Go VESA, Nova Motion, and Nova Connect — will also be on hand at the ATA19 event.
To learn more about Tryten and view their products and accessories, please visit Tryten.com.
About Tryten
Tryten inspires the future of healthcare by unlocking the power of technology with simple, beautiful, clever stations that enable users to engage with mobile devices in a secure, ergonomic, hands-free way. For more information, please visit Tryten.com.
Source: Tryten Technologies, Inc.
Share:
---
Categories: Healthcare Technology
Tags: american telemedicine association, ata, ata19, ata2019, digital health, healthcare devices, healthcare innovations, healthcare news, healthcare professionals, nicu, telehealth, telenicu
---
Related Files
Additional Links