TrueLight® Launches Red Science-Backed Sleep Light
Press Release
•
updated: Jul 7, 2020
New Luna Red™ bulbs mimic natural sunset to eliminate junk light before bed.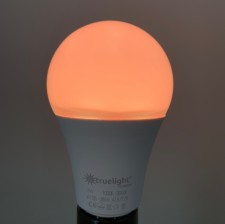 SEATTLE, July 7, 2020 (Newswire.com) - Today, TrueLight®, a wellness technology brand at the forefront of developing Human Compatible™ products for healthier living, launched the TrueLight Luna Red™ Sunset Sleep Light Bulb. This is the first "sleep light" in TrueLight's family of healthy lighting solutions -- designed to help people heal and fuel their bodies during the daytime, or fall and stay asleep faster, naturally, at nighttime.
Studies show that red wavelengths of light are most conducive for better sleep. This new calming bulb has adjustable color temperature settings between 3000K (equivalent to evening dusk), and 1000K (a warm red for late at night). This specific color range, combined with built-in dimming, provides ideal light exposure for regulating circadian rhythms and helping the body wind down at night. Unlike conventional lighting solutions that emit junk light and negatively impact melatonin production, this special late-night spectrum does not emit wavelengths that lessen sleep quality.
"The TrueLight Luna Red™ Sunset Sleep light bulb is uniquely inspired by the patent-pending sunset gradient lenses used in select TrueDark® Twilights blue light blocking eyewear. It simulates natural, relaxing light from sources like candles and fireplaces, which helps induce relaxation and sleep onset", says Dave Asprey, Founder of TrueLight.
The TrueLight Luna Red™ Sunset Sleep light bulb is ideal for nighttime living spaces, hallways, nurseries, bathrooms, and especially bedrooms. Consumers can purchase this bulb as a single item, in a 2-pack, or in a 4-pack. Wholesale opportunities (in the United States and internationally) are also available for health-conscious businesses.
For additional product information, please visit: https://shoptruelight.com/product/luna-red-sunset-bulb

To learn more about wholesale opportunities, please email: wholesale@truedark.com
###
About TrueLight
TrueLight® is a leader in creating innovative light-based technology that supports human health and performance. Founded by Dave Asprey, the "Father of Biohacking" and 2X's New York Times® Best Seller, TrueLight® is on a mission to help people leverage healthy light for healthier living with products that are backed by science and designed to help people feel and function their best To learn more, visit www.ShopTrueLight.com.
Contact: Megan Soffer
Phone: +1 (206)739-2098
Email: Megan.Soffer@ShopTrueLight.com
Website: ShopTrueLight.com
Source: TrueLight®