"Troy Wilde Interviews" Features Comics From Around the U.S.
Press Release
-
updated: Mar 8, 2017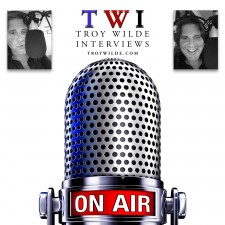 Phoenix, AZ , March 8, 2017 (Newswire.com) -  "Troy Wilde Interviews" (TWI) is a broadcast quality podcast dedicated to interviewing comics from around the United States.
The podcast, which launched in January, just released Episode 10 featuring an interview with Menuhin Hart, a comic based in New York City. Podcast host and creator Troy Wilde explains that Episode 10 is a strong example of what TWI is striving to be, "Menuhin is a very funny guy, and he's also very intelligent. We explore the 'why' of his comedy; the influences, the motivation, the material, the biggest fails, the biggest kills. We also ask if the pain of racism makes Black comics funnier. Some of the best comedy seems to come the most painful experiences. Our goal is to be the 'Inside the Actors Studio' of comedy-based podcasts."
"Troy Wilde Interviews" publishes a new episode every week and is available on iTunes, Google Play, and at www.troywilde.com  
Troy Wilde, a veteran of radio news and morning show radio, has performed at the World Famous Comedy Store and other venues. "I've done stand-up quite a few times, and I have a huge amount of respect for the craft and for those who have the courage to get up on that stage. I also have a passion for comedy that goes back to my earliest memories of watching Johnny Carson, Redd Foxx, Don Rickles, Richard Pryor, Rodney Dangerfield, Eddie Murphy, David Letterman, Buddy Hackett, and so many legends who made America laugh. For some reason, I've always related very well to comics, as well as my brothers and sisters in broadcasting. We're all a bunch of needy folks seeking approval and love," said Wilde.
Wilde adds, "The timing for this podcast is perfect. Nearly 60 million Americans listen to at least one podcast per month. I've been working on this idea for about a decade. Originally, I thought the concept would play well as a syndicated radio program, but I lacked the ambition to pursue that avenue. Now I can produce this podcast, have a blast with some of the best working comics, and I don't even have to leave my house."
Meanwhile, Wilde says that the podcast is focused on interviewing comics from all corners of the country, "I've lived in enough places to know that where we grew up, and where we live, can have a huge impact on our world view and attitude. For instance, a comic in cold and cloudy Chicago may be angrier and edgier than a comic in sunny and warm Phoenix, where I live. Beyond climate, there can also be differing political views and sensibilities in the South versus the Midwest, and East Coast versus West Coast. Now that I think about it, we may start an East Coast – West Coast comedy battle."
For more information or to request an interview please contact Troy Wilde at (480) 353-7798 or email troyinterviews@gmail.com or visit www.troywilde.com
Source: Troy Wilde Interviews
Share:
---
Categories: Humor, Television, Comedy
Tags: Comedy, Comedy Podcast, Comics, Podcasts, Stand up comedy, Troy Wilde Interviews, TWI
---