"Troy Wilde Interviews" Comic Jill Kimmel, Jimmy's Little Sister?
Press Release
-
updated: Apr 26, 2017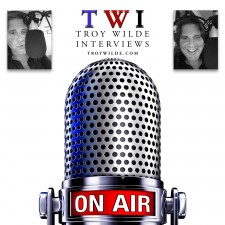 Phoenix, AZ, April 26, 2017 (Newswire.com) - The very funny, and very cool, national touring comic Jill Kimmel joins us for Episode 17 of "Troy Wilde Interviews," a broadcast-quality podcast dedicated to interviewing comics around the U.S. and internationally.
Jill tells Troy how performing at an open mic in the Phoenix area eleven years ago changed her life. "My ex-husband, who was my husband at the time, took me to a comedy show and he said, 'You should do this, you would be good at this.' I had never thought about doing comedy, but I signed up for an open mic and did it, and never looked back." Jill has since opened for Arsenio Hall and other big names, and performs around the country.
Jill also talks about growing up in Las Vegas, and both the benefits and challenges of having a famous sibling, "I just got divorced last year, and I just went back to Kimmel about a year ago, and I was Bryan for the first ten years of my career. So it was really kind of nice to be able to get out and do shows, develop my comedy, and have people like me based on what they saw on stage, and not who they thought I might be related to."
Meanwhile, "Troy Wilde Interviews" host and creator Troy Wilde explains how he met Jill Kimmel: "I saw her open for Arsenio at the Tempe Improv in November 2015 and again earlier this year, and she was great both times. At first, I didn't think all that much about the possible connection to Jimmy Kimmel. However, the second time I saw her open for Arsenio, she talked about growing up in Las Vegas, and my journalist brain recalled Jimmy Kimmel talking about growing up in Vegas. Boom, breaking news: 'Jill Kimmel is Jimmy's littler sister."
Meanwhile, Wilde says the podcast is focused on featuring comics from everywhere: "We've interviewed comics from around the U.S., the United Kingdom, Germany, and Australia. Our goal is to explore the stand-up comic's experience in other nations and cultures. The jokes and material may differ, but laughter is laughter, no matter where you are in the world. I feel that our podcast is borrowing from Anthony Bourdain, who travels the world meeting chefs and eating food, and in the process learning about different cultures. We're doing the same thing, except that it's over the phone and with comics, not chefs, and there is no food."
"Troy Wilde Interviews" publishes a new episode every week and is available on Apple Podcasts (iTunes), Google Play, Stitcher Radio, and at www.troywilde.com.
Troy Wilde, a veteran of radio news and morning show radio, has performed at the World Famous Comedy Store and other venues, "I've done stand-up quite a few times, and I have a huge amount of respect for the craft and for those who have the courage to get up on that stage at places like the Comedy Store, Ice House, and Improv clubs. I also have a passion for comedy that goes back to my earliest memories of watching Johnny Carson, Redd Foxx, Don Rickles, Richard Pryor, Rodney Dangerfield, Eddie Murphy, David Letterman, Buddy Hackett, and so many legends who made America laugh. For some reason, I've always related very well to comics, as well as my brothers and sisters in broadcasting. We're all a bunch of needy folks seeking approval and love."
Wilde adds, "The timing for this podcast is perfect. Nearly 60 million Americans listen to at least one podcast per month. I've been working on this idea for about a decade. Originally, I thought the concept would play well as a syndicated radio program, but I lacked the ambition to pursue that avenue. Now I can produce this podcast, have a blast with some of the best working comics, and I don't even have to leave my house."
For more information or to request an interview, please contact Troy Wilde at (480) 353-7798, or email troyinterviews@gmail.com or visit www.troywilde.com
Source: Troy Wilde Interviews
Share:
---
Categories: Humor, Performing Arts, Comedy
Tags: Comedy, Comedy Podcast, Comics, Jill Kimmel, Podcasts, Stand up comedy, Troy Wilde, Troy Wilde Interviews
---