TripGift Partners With World's Largest Retailers, Launches 'TripGift in a Bottle' With Exciting Spend and Spin to Win Instant Rewards
Press Release
•
Jul 14, 2023
TripGift® Expands Global Retail Reach, Unleashes 68 Currency Travel Gift Card Experience, and Revives Thrilling Monthly 'Win Back Your Trip' Campaign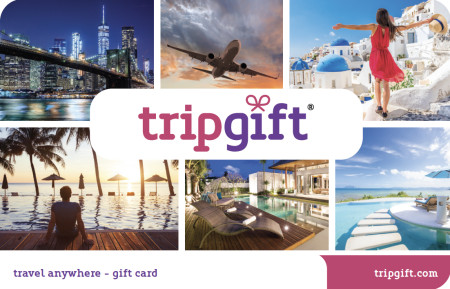 NEW YORK, July 14, 2023 (Newswire.com) - TripGift®, the international multi-award-winning, multi-brand travel gift cards and digital self-serve travel experience marketplace, is thrilled to announce its exciting global expansion into the world's largest retailers, including renowned names such as Walmart, Amazon, Kroger, Target, Best Buy, and many more. This global strategic breakthrough unlocks accessibility for customers, allowing them to fulfill their travel dreams with TripGift's unique brand portfolio and reach.
Following the excitement and engagement customers have come to love with travel, "TripGift® in a Bottle" will reactivate the captivating campaign that immerses customers into a thrilling experience to spend and spin their way to fantastic instant rewards. Starting from Aug. 1, 2023, transacting customers will have the chance to win back their trip through a monthly draw, where one lucky winner will receive a travel gift card. Participants qualify for the draw by making new online purchases and engaging with the digital spinning bottle (T&Cs apply). Prizes include exclusive travel discount coupons and additional travel gift cards.
Despite the challenges posed by rising living costs and inflation, travel demand remains resolute, with American consumers passionately prioritizing leisure travel. The US Travel Association reports that total travel spending has already surged by an impressive 5.5% year-to-date through May 2023, reflecting a remarkable resurgence within the industry.
Cary George, the visionary CEO of TripGift®, shared his enthusiasm for the current demand for experiential and bucket list travel, stating, "It's an exhilarating time to be a part of the travel industry as demand continues to surge." With the travel experience enthusiasts driving the industry's renaissance, TripGift® is poised for exponential growth. George added, "This is the perfect opportunity to create some business magic for both our new and loyal customers through our engaging spend, spin to win instant rewards campaign."
About the multi-award winning TripGift®
TripGift® leads the market in multi-currency, multi-brands travel 'anywhere' digital gift cards. Offering 8 'hero brand' gift cards, including: AirlineGift, BucketlistGift, HotelsGift, eLearnGift, FlystayGift, RentacarGift, TripGift and ToursGift, opening doors to over 1.5 million bookable travel experiences in its online marketplace. The platform encompasses major airlines, hotels, car rentals, as well as extraordinary local and global bucket list experiences, VIP sporting events, and cultural and music events. Customers can seamlessly redeem their gift cards within TripGift's unique business ecosystem.
TripGift's innovation flywheel brands operate and co-create value with major retailers, distributors, and corporate companies across 180 countries. Anchored by its industry-first 68 currency travel and experience digital gift cards, gift card processor with API fulfillment, TripGift® is the ideal solution for birthdays, weddings, anniversaries, travel rewards, loyalty programs, incentives, rebates, travel experience retailing, gifting and prizes.
For more information, please visit: https://www.tripgift.com/b2b-bulk-custom-orders.aspx
Source: TripGift