TripGift Expands Global Reach to 85 Currencies to Become the World's Most Globally Accepted Gift Card Brand
Press Release
•
Sep 4, 2023
TripGift® Accelerates Gift Card Brand Portfolio to Industry-First 85 Currencies With Full Global Travel and Experience Redemption Range in Each Currency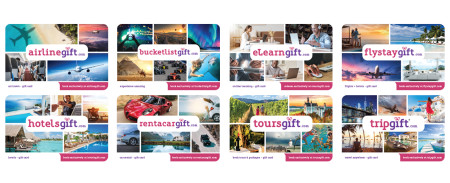 NEW YORK, September 4, 2023 (Newswire.com) - TripGift®, the global market leader in multi-brand, multi-currency travel gift cards, has expanded its unparalleled global reach to 85 currencies. This includes the unique addition of 17 new currencies in hard-to-access territories in Asia, Middle East, Africa, and LATAM. This strategic enhancement makes TripGift the only gift card brand in the world to operate with this vast market-leading range of currencies.
The global digital gift card market is expected to reach $1.2 trillion by 2032 with a CAGR of 12.5%, according to the latest report by Custom Market Insights titled "The Digital Gift Card Market Size." The Global Travel market is even bigger, currently at $2.3 trillion, set to reach $4.6 trillion by 2030, with a CAGR of 10.4%, according to the GlobalData Online Travel report.
The TripGift brand portfolio is well-positioned to capitalize on the growth of both of these markets, with TripGift delivering its unique global travel and bucket list experience gift cards via its market-leading multi-currency travel booking marketplace and gift card distribution and redemption capability.
"Customers are everywhere, e-commerce is everywhere, everyone has bucket list dreams. Our gift of travel for anyone, anywhere is the perfect experience gift," said Cary George, CEO at TripGift.
TripGift's multi-currency redemption platform enables customers to redeem their gift card(s), making it easier to book travel and bucket list experiences in their local currency, which opens up more accessibility to experience the world on travel gift cards.
This is a valuable benefit for anyone who loves travel or who loves to gift experiences to friends, family members, work colleagues or customers in their local currency.
About the Multi-Award-Winning TripGift®
TripGift® leads the market in multi-currency, multi-brand travel-"anywhere" digital gift cards, offering eight "Hero Brand" gift cards, including AirlineGift, BucketlistGift, HotelsGift, eLearnGift, FlystayGift, RentacarGift, TripGift and ToursGift, and opening doors to over 1.5 million bookable travel experiences in its online marketplace. The platform encompasses major airlines, hotels, and car rentals, as well as extraordinary local and global curated bucket list experiences, VIP sporting events, and cultural and music events. Customers can seamlessly redeem their gift cards exclusively within TripGift's unique business ecosystem.
TripGift's innovation flywheel brands transform innovation to value with major retailers, corporate companies and digital distributors across 180 countries. Anchored by its industry-first 85 currency, security-minded travel and experience digital gift cards, gift card processor with API fulfillment TripGift® is the ideal solution for birthdays, weddings, anniversaries, travel rewards, loyalty programs, incentives, employee awards, cash-back travel credits, rebates, travel experience retailing, gifting and prizes.
For more information, please visit https://www.tripgift.com/b2b-bulk-custom-orders.aspx.
Source: TripGift