Trindent Consulting Named to List of 2019 Fastest-Growing Consulting Firms
Press Release
•
updated: Nov 1, 2019
Consulting Magazine celebrated winners at the University Club of Chicago on Oct. 24, 2019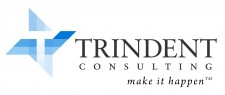 TORONTO, November 1, 2019 (Newswire.com) - Consulting Magazine has named Trindent Consulting one of the Fastest-Growing Firms for 2019. Consulting Magazine ranks firms based on three-year revenue growth and revealed the rankings at an awards dinner on Oct. 24, 2019, at the University Club of Chicago.
2019 is the fifth consecutive year that Trindent has earned a place on this distinguished list of consulting firms, and at #37, Trindent earned the highest ranking ever. Trindent, along with the other winners, will be featured in the November issue of Consulting Magazine, which will be available on Nov. 8, 2019.
"Trindent is honoured to be named to the list of Fastest-Growing Firms for a fifth consecutive year," says President Adrian Travis. "This achievement reflects the strength and dedication of our people and our adherence to our firm's core values."
Differentiating Trindent from other consulting firms is the specific and tactical focus they bring to every unique business challenge. Trindent's specialized and collaborative approach consistently produces extraordinary results and includes sustainability programs after the work is complete. These programs include a formal audit to ensure that processes, tools and behaviors are flourishing. Solving complex business problems, without the need for capital expenditures, consistently ensures Trindent's clients that the top-line results will provide predictability in bottom-line performance.
Travis states that "our success has been attributable to our client-centric approach and our steadfast commitment to our firm's core values. We continue to distinguish ourselves from many consulting firms by our passion for solving complex problems. Trindent is different -- we Make It HappenTM."
For more information, please visit www.trindent.com or contact toronto@trindent.com.
About Trindent Consulting
Trindent Consulting is a global management consulting firm that solves complex business problems and delivers operating efficiencies for the Energy, Healthcare, and Financial Services industries. The firm's unique improvement approach yields between 500-1,500% ROI within the first year. Established in 2008 by Adrian Travis, Trindent has quickly garnered a reputation as a firm that Makes It Happen™. It is ranked as one of Canada's Fastest-Growing Companies by Canadian Business and PROFIT/Growth 500 in 2014, 2015, 2016, 2017, 2018 and 2019. Trindent was also named one of the Fastest-Growing Consulting Firms by Consulting Magazine in 2015, 2016, 2017, 2018 and 2019.
Media Contact
Christine Maglutac
Trindent Consulting
416.839.7000
Source: Trindent Consulting