Trindent Consulting Adds Oil & Gas and Healthcare Executives to Advisory Board
Press Release
•
updated: Jan 15, 2019
Bob Baird and Bruce Stroever join Trindent Consulting Advisory Board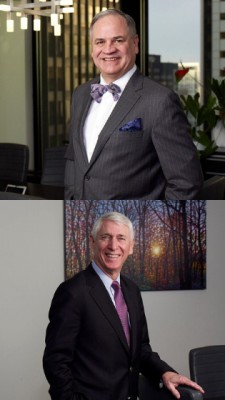 TORONTO, January 15, 2019 (Newswire.com) - Trindent Consulting is pleased to welcome Bob Baird and Bruce Stroever as the newest members of Trindent's Advisory Board. Mr. Baird and Mr. Stroever will join Shane Kelly, Oscar Zimmerman, Paul Meade-Clift, and Stephan Rajotte in supporting Trindent's management team as the firm continues its path of impressive growth.
"On behalf of Trindent's management team, we are both honoured and excited to welcome Bob and Bruce to our Advisory Board," says Trindent President Adrian Travis. "Bob and Bruce have been leading executives in their fields and will be a great resource for Trindent."
Bob Baird has over 36 years of experience in the oil & gas industry, most recently as Senior Vice President, Downstream at Husky Energy in Calgary, Alberta. "As a former client of Trindent, I know first-hand the results that Trindent has achieved in our industry," says Mr. Baird. "I'm excited to join the Advisory Board and be a part of this Canadian business success story."
Bruce Stroever has over 47 years of product development and general management experience in the medical devices and orthobiologics fields, and most recently was President and CEO of the Musculoskeletal Transplant Foundation in Edison, New Jersey. "Like Bob, I am also a former client of Trindent," says Mr. Stroever. "I look forward to joining the other Advisory Board members and Trindent's management team in continuing to build this firm."
Travis states that "our continuing relationship with Bob and Bruce is a testament to Trindent's client-centric approach. As former clients themselves, they have the unique perspective of understanding and experiencing first-hand our passion for solving our clients' most complex business problems. We are fortunate to have Bob and Bruce join our Advisory Board and are fortunate to have their expertise and guidance as we move forward as a firm."
For more information, please visit www.trindent.com or contact toronto@trindent.com.
About Trindent Consulting
Trindent Consulting is a global management consulting firm that solves complex business problems and delivers operating efficiencies for the Energy, Healthcare, and Financial Services industries. The firm's unique improvement approach yields between 500 – 1500% ROI within the first year. Established in 2008 by Adrian Travis, Trindent has quickly garnered a reputation as a firm that Makes It Happen™. It is ranked as one of Canada's Fastest-Growing Companies by Canadian Business and PROFIT/Growth 500 in 2014, 2015, 2016, 2017, and 2018. Trindent was also named one of the Fastest-Growing Consulting Firms by Consulting Magazine in 2015, 2016, 2017, and 2018.
Media contact
Andrea Romanczuk
Trindent Consulting
416.839.7000
Toronto@trindent.com
www.trindent.com
Source: Trindent Consulting