Trending Spring Vacation Destinations for 2018
TripHobo shortlists the top Spring vacation spots in & around the United States for 2018.
Press Release
-
updated: May 11, 2018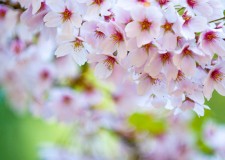 PALO ALTO, Calif., May 11, 2018 (Newswire.com) - Spring vacation, the most anticipated holiday in the U.S., is an exciting time for youngsters as well as adults. Party, sun, and an entire week away from school – that's spring vacation for most! A sought-after holiday for college students and young adults, this break is nothing short of a festivity.
With so many options to confuse the travelers, how can one pick the best spring vacation destination? From budgeted alternatives to luxurious party resorts, there is an ideal spring vacation destination for all. Trip Planning website TripHobo lists down the top-most spring vacation destinations for 2018.
1. Panama City Beach, Florida
A perennial favorite for all spring vacationers, Panama City Beach has been touted as one of the best spring vacation destinations for the past twenty-five years. Approximately 2,50,000 spring vacationers visit the beach in Florida annually. In the recent times, the city has passed several laws that have made the rules of drinking and partying stricter. Although the latest changes in the rules have affected the party fun, this place is still considered one of the iconic and must-visit places for all spring vacationers.
2. Las Vegas, Nevada
While Las Vegas is a non-beach destination, it is a popular choice for spring vacation among all those who wish to spend time in gambling. Casinos, shows, clubs, bars and celebrity meets, Las Vegas is nothing short of excitement and fun. A party town by nature, there is always something happening in Vegas and as they say 'What happens in Vegas' hopefully stays in Vegas.
3. New Orleans, Louisiana
Known for its Mardi Gras parties in February, the spring vacation parties are an extension of the same. Popular for its nightclubs, cheap drinks and lax drinking laws, New Orleans is the place to go crazy and wild during spring vacations. Although called trashiest places to party in America, one can always experience incredible party energy here. For vacationers whose aim this season is to go wild, New Orleans is the way to go.
4. Venice Beach, California
Although alcohol is prohibited in the Southern Californian beaches including Venice beach, it is still considered one of the most famous spring vacation destinations of 2018. The place offers several must-visit bars and club options so that tourists won't miss the whole drinking game during spring vacation. If tourists want a party on the beach sans drinks, Venice can be the best pick.
5. Miami Beach, Florida
A place known for its spring vacation parties, Miami Beach is one of the most popular destinations of all times. Recognized for the eccentric parties, Miami Beach is also known to be one of the craziest places during spring vacation. Untamed wildness clubbed with the availability of alcohol, this place can give the travelers some memories that can last them several breaks. 
6. Lake Havasu, Arizona
A never-ending party land, Lake Havasu situated in Arizona turns into a party town during spring vacation. The town which thrives on party animals visiting during the break organizes several memorable events and parties, thus boosting their tourism and popularity. One of the major tourist attractions at Lake Havasu is the floating stages that are set-up on the lake with several world-class talents performing live in front of the spring vacationers.
7. South Padre Island, Texas
A party land for college students, South Padre Island, is situated on the barrier island on the tip of Texas. Approximately 25 miles long, the party starts early here. The Texan Motto 'Everything is Bigger in Texas' applies to this island of the party. With events and parties happening around the clock, one can never say fun is lost here. Perfect to make new friends or to relax with old ones, this place is an ideal spring vacation destination. 
8. Myrtle Beach, South Carolina
A perfect location for all millennial spring vacationers, Myrtle Beach is for loud club lovers. While North Myrtle is pricier, there are many quiet beaches and nicer restaurants. Central Myrtle is for all who love loud clubs and cheap drinks. A party town, there is a party option for everyone and for every kind. The party mania is so high that the tourism website warns people of making some bad decisions, quite literally!
Spring vacation Destinations Outside the US
9. Acapulco, Mexico
Acapulco is an affordable and cheap spring vacation destination suitable for all. With the drinking age limit more relaxed than the USA, there is an option for college students and young adults to explore party life in Mexico. The place also offers all-inclusive resorts with five-star treatment.
10. Cabo San Lucas, Mexico
Commonly called 'Cabo,' the place is known for attracting people who want an escapade from their lives. Cabo known for its loud and eclectic array of parties is a place for anyone who wishes to party non-stop and get back home exhausted from the break they took. Parties, DJs nights, contests - they all form part of Cabo's spring vacation mania, and with so many things to do in Cabo San Lucas, one can never have a dull moment when here.
11. Nassau, Bahamas
Constantly filled with cruise ships, Nassau's ports are filled with fabulous beaches and refreshing drinks. Filled with an array of luxurious resorts, the island also has dedicated spots for colleges and young adult parties. A series of events are always planned and executed in the beaches of Nassau. DJs blasting music all night long while the dance floor gets wild and crazy is a common sight on this island.
12. San Juan, Puerto Rico
The newest entrant on the list of party spots, San Juan is filled with beautiful vistas, the sun, alcohol, and relaxing resorts. Possibly one of the quieter party beaches during the break season, San Juan offers a serene, relaxing view. However, there is a side of town that caters to the wild party culture that doesn't wear down even after sunrise. For travelers looking for delicious food, party, and nightlife with affordable hotel accommodation, San Juan is a perfect pick.
13. Cancun, Mexico
Considered one of the most iconic spring vacation destinations, Cancun is a perfect place for fun and sun during spring vacation. Wild parties are a specialty here, and one can never get bored of the energetic vibe here. A place known for loud celebrations, there is no shortage of things to do here. The Cancun beaches are perfect to go wild on a Spring break!
14. Negril, Jamaica
An exotic spring vacation destination, Negril is for anyone looking for beach parties, bonfire parties, reggae concerts, VIP water bars and much more. For travelers who desire to have a classy Caribbean party for a spring vacation, Negril is a perfect choice. Also known to have one of the most beautiful sunsets in the world, Jamaica is the best place to relax and rejuvenate. 
15. Punta Cana, Dominican Republic
Stretching along 21miles of coral and white sand beachfront, Punta Cana is beyond just beach fun. If those into water sports, it is a great place to explore activities including snorkeling, scuba diving, hiking, and ocean kayaking. The crystal-clear water with exotic wildlife makes it the perfect spring vacation destination to unwind after a hard semester. All-inclusive resorts have started taking the place by storm and now offer several packages to meet the party needs. This is an ideal choice for those who wish to go to an off-beat place and indulge in out-of-the-box activities this spring!
Travelers are advised to take sunblock, water, and hangover cures to keep themselves from getting sloppy after a day of fun. These gorgeous beaches are a great way for vacationers to let their guard downs and have fun.
Source: TripHobo
Share:
---
Categories: Vacations and Travel
Tags: spring break, spring break 2018, spring vacation, travel, vacation
---