Treat 'Sole' and 'Sole-Mate' This Valentine's Day With Kerasal®
Press Release
•
Feb 9, 2023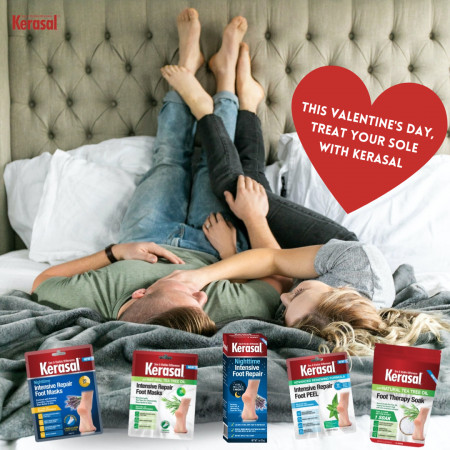 CEDAR KNOLLS, N.J., February 9, 2023 (Newswire.com) - This Valentine's Day, get off on the right 'foot' with Kerasal® Foot Care. Kerasal's best-selling line of Foot Repair products provides visible results and lasting improvements to feet of all ages, shapes, and sizes.
This Valentine's Day and every day, get pampered with the at-home 'spa foot vacation' that leaves feet extra attractive and silky-smooth, guaranteed to make that special Valentine's Day - and night - much more enjoyable.
"So many people struggle with dry, cracked feet, especially during cold winter months," says Sharon Araya, Senior Brand Manager for Kerasal. "With Kerasal's lineup of foot care products, anyone can create the perfect at-home pedicure experience. This broad line of soothing products offers you and your 'Sole'-mate a way to have silky feet this Valentine's Day and throughout the year. Kerasal has something for everyone, especially for those that don't like to get salon pedicures," adds Araya.
Get treated to a truly 'footastic' experience this Valentine's Day that even Cupid himself could not resist.
The Find a "Sole-mate" Kerasal Valentine's Day Collection includes:
In addition to these perfect Valentine's Day gifts, Kerasal offers a broad line of foot care products: Kerasal Daily Defense Foot Wash with Tea Tree Oil; Kerasal Intensive Repair Foot Masks; Kerasal Multi-Purpose Nail Repair; Kerasal Nighttime Renewal Fungal Nail Patches, and more.
For more information, go to Kerasal.com or visit Kerasal's Amazon Store.
Source: Kerasal