Treasure Investments Corporation Receives Heroic Monument Commission From Boyne, USA
Press Release
•
updated: Aug 14, 2018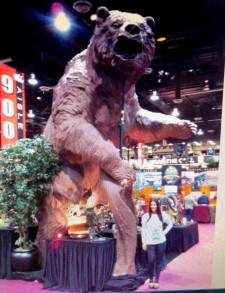 BATTLE GROUND, Wash., August 14, 2018 (Newswire.com) - The Gatlinburg SkyLift, which initially opened in the 1950s, is one of the oldest continuously operated attractions in the Smoky Mountains. The popular attraction is located directly across the street from Ripley's Believe It or Not in downtown Gatlinburg. This vintage chairlift transports visitors to the top of Crocket Mountain for an amazing panoramic view of the National Park and quaint town of Gatlinburg below. It is the number one scenic overlook in Gatlinburg.
Mark Russo, CEO of Treasure Investments Corporation (TIC), was contacted by one of the principles of Boyne, USA, owner of the SkyLift Resorts, and inquired about TIC's ability to create the monument. "I received an email inquiry and quickly returned the call explaining that I have been involved with the creation of literally hundreds of monument projects, from 60' bronze eagles to larger than life whales, animals, religious and historical themes and made installations for parks, zoos, casinos, hotels and incredible sites and locations around the world. After sending a few photos showing the world-class quality of our work, the quick time it takes us to complete a project, and our collaborative process we landed the contract. They sent over a great concept in a drawing, we made it much better and to their liking and now we are creating exactly what the customer wants," says Russo.
We are creating exactly what the customer wants.

Mark Russo, CEO, Treasure Investments Corp
TIC starts with input from a client about subject, design, size, and medium. Once TIC thoroughly understands what the customer is looking for, a series of renderings are created and modified until it is precisely what is desired. Once agreed upon, a small scale version is created and cast in usually bronze, but other mediums can be requested including resin or precious metals. With the small image complete and accepted, TIC will then go to production on the heroic piece.
The larger than life-size bronze bears will be complete in about eight weeks and will be installed in the new SkyLift patio area in a recently renovated part of the resort.
This project marks the 7th heroic bronze sculpture to be delivered by TIC in just this year alone.
About Treasure Investments Corp
TIC has a diverse business platform, creating and providing fine art in original sculptures from small desktop images and collectibles to larger than life heroic monuments. The company's master mold collection contains hundreds of original molds from world-famous artists in the United States and Europe. For more information, visit Fineart1.com.
Media Contact:
Mark Russo
Phone: 360.954.5453
Email: mark@fineart1.com
Source: Treasure Investments Corporation
Related Media