Travel Junkie Julia Dimon Shares Her Tips for Reducing Stress When Planning a Great Vacation
Press Release
•
updated: Aug 6, 2018
Dimon Stopped by Tips on TV to Explain How to Make More Memories the Summer!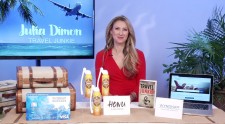 ATLANTA, August 6, 2018 (Newswire.com) - The summer is halfway over, but there is still plenty of time to plan that last-minute vacation. It starts with choosing a relaxing location, a great place to stay and a simplified travel list. To provide everyone with inspiration, the renowned TRAVEL JUNKIE Julia Dimon shares her last minute family travel tips. Julia has visited more than 80 countries during her career as one of the top travel experts in the nation. The TV host for "Word Travels" has hiked with mountain gorillas in Uganda, gone to radioactive Chernobyl and eaten live scorpions, bugs and slugs across the globe. Now discover why Julia is sharing her number one tips to not regret squeezing in one last cherished memory before the summer is over.
HOW TO GUARANTEE A RELAXING STRESS-FREE VACATION
There is still plenty of summer left to plan a relaxing vacation and that can be tricky when traveling with kids, parents, and other family and friends. Julia finds that one of the best ways to combat the anxiety that tags along with summer vacation planning is by choosing a vacation rental home. Wyndham Vacation Rentals offers professionally managed homes that have plenty of room for the whole family. WyndhamVacationRentals.com is where people can go to learn more about vacation rentals from the beaches in the Outer Banks, Northwest Florida and Gulf Shores to the Smoky Mountains in Tennessee.
Vacation homes can make a stay more relaxing because traveling parents do not have to go to bed when the kids do, since everyone can have a separate bedroom. With a full kitchen, vacationers do not have to eat out for every meal which helps save money for other vacation fun. They will also feel less crowded with all the extra space like a living room, game room and more. For more information, visit www.WyndhamVacationRentals.com.
BEST TIPS FOR EARNING REWARDS FOR A VACATION
A great place to start is with award-winning loyalty programs like Wyndham Rewards. Smart travelers have a great credit card that helps them earn rewards towards their next vacation. Look for cards that offer simplicity with valuable rewards like the Wyndham Rewards Visa Card. Travelers can earn rewards on everyday purchases and redeem them at more than 25,000 resorts, hotels, vacation rentals, and other Wyndham properties around the world. Cardmembers earn up to 13 points per dollar on their qualified stays, so points add up quickly. Plus, with the card, cardholders get membership perks like preferred rooms, late check out and even free Wi-Fi. So that means families can take great vacations year after year. For more information, visit https://cards.barclaycardus.com/cards/wyndham-rewards-visa-card.html?referrerid=PRBASMT
WHAT TO PACK WHEN PLANNING A VACATION
Make a checklist of important items to pack, and of course sunscreen is at the top of that list. Honu is a new sunscreen with a patented spray wand that lets anyone, including kids, get sunscreen coverage in hard to reach spots like their back, neck and shoulders. Like many sunscreens, Honu is SPF 50 and water resistant for up to 80 minutes. What is really cool is that it is powered by air and offers a Reef Safe formula, so it is better for people and the environment! Find Honu at Walmart stores or at www.honusunscreen.com.
www.tipsontv.com
Contact: tipsontv@gmail.com
Source: TipsOnTV
Related Media