Travel Expert Kris Kosach Shares Important Tips for Choosing the Right Vacation Destination
Press Release
•
updated: Mar 1, 2018
Timely Tips for Great Getaways in Texas to Break the Winter Blues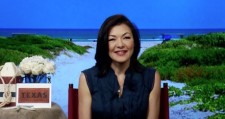 AUSTIN, Texas, March 1, 2018 (Newswire.com) - Cold weather is still with many around the country, but that doesn't mean you can't escape the cold with a 'hot' vacation or a weekend getaway. It is also the perfect time to start planning for Spring or Summer vacation. Here to help is travel and technology expert Kris Kosach, an original host of Travel Channel's 'Tech Gear' television show, and a well-known travel and tech expert for Tech TV. Kris gives some hot spots to consider for upcoming travel.
NOW IS A GOOD TIME TO TAKE A TRIP OR TO PLAN A VACATION
Now is a great time to plan a trip. One destination that is perfect for the winter and spring months is Texas. The weather is pleasant and mild, and with more than 300 days of sunshine the average temperature is warmer than most. Many areas in Texas never see snow, including the Gulf Coast, making the Lone Star State a year-round destination. This time of year is the perfect time to get a break from the winter blues, with over 300 miles of coastline, anyone is bound to find the perfect destination for their next vacation.
HOT PLACES FOR A COOL VACATION
Galveston Island beaches and major attractions are perfect for families and they are ready for spring and summer visitors. Galveston Island is one of the Lone Star State's prime beach destinations and ideal for family travel, staying warm and mild even through the winter months. Galveston and its 32 miles of sun-kissed shores provide plenty of things to see and do. Take in the views while paddle boarding, check out the dolphin pods that call Galveston home all year round, get up close and personal with everything Moody Gardens has to offer, or sit back and enjoy some delicious Gulf Coast seafood. In Galveston, the beach is just the beginning, as Galveston has an endless supply of other outdoor adventures, fascinating history to unearth and so much more. For more information, visit www.galveston.com.
BEST KEPT SECRETS WHEN IT COMES TO A HOT VACATION DESTINATION
In Port Aransas, keep everyone in the family happy with a destination that has something for everyone. South of Galveston Island, Port Aransas is one of two locations where Hurricane Harvey's winds were sustained for several hours while it made landfall but is now making a comeback in time for spring and winter travel! Known as the "original island life destination," Port Aransas offers 18 miles of shoreline and wide, sandy beaches with everything needed to plan the perfect beach vacation. Port Aransas is also home to Texas SandFest (April 27-29), which showcases sand sculptors from around the world. For more information, visit www.portaransas.org.
A VACATION WITH SOME ADDED CULTURE
Just south of Port Aransas is Corpus Christi, where travelers can experience some true South Texas hospitality with Tex-Mex food, great music, miles of beaches and attractions. Corpus Christi is known for being the home to the Latin music legend and "Queen of Tejano" music, Selena. To celebrate her life and legacy, Corpus Christi hosts the annual Fiesta De La Flor each April that includes a Mercado, food trucks, kid zone, and memorable concerts. Also located in Corpus Christi, The Texas State Aquarium, is home to fascinating sea creatures of all kinds. Travel back in time at the U.S.S. Lexington and visit this World War II naval aircraft carrier; it will be anything but ordinary. For more information go to www.visitcorpuschristitx.org.
A UNIQUE VACATION SPOT
Looking to break out of the ordinary and experience a life of leisure? On South Padre Island, it is always island time since the beach town boasts 34 miles of beautiful white sand and clear emerald water and one of the world's most exquisite barrier islands. On South Padre Island, take time to relax on the beach or take a turn at one of the many adventurous activities found on the island. Try adventures like flyboarding, ziplining, tandem skydiving, surfing, kiteboarding, driving ATVs, stand-up paddle boarding, snorkeling, scuba diving, parasailing, jet skiing and deep-sea fishing. South Padre Island is the perfect location for the adventurous traveler. For more information, visit www.sopadre.com.
TRAVELING TO THE TEXAS GULF COAST
The airline travel to each of the Texas Gulf Coast destinations is very affordable, and there are some great airports. Galveston is just south of Houston, so George Bush Intercontinental Airport or William P. Hobby Airport are closest. For Port Aransas & Corpus Christi, Corpus Christi International Airport is closest and for South Padre Island, there are a few options from Brownsville South Padre Island International Airport, Valley International Airport or McAllen International Airport. It is an easy flight, so anyone that has the winter blues, should book their trip today. For more information, visit www.traveltexas.com.
VIDEO: https://vimeo.com/a1broadcast/review/256484730/356b41e0e2
Contact: Katie.Nafius@edelman.com
Source: travel texas, Kris Kosach
Related Media