Tratok, the Blockchain Travel and Tourism Ecosystem Disruptor, Taps Into $3.5 Billion Liquidity Pool
The latest listing of Tratok (TRAT) on Hotbit Exchange is yet another step forward to Tratok growing its presence across the crypto markets to ensure maximum accessibility and exchangeability to the public of the Tratok travel token.
Press Release
-
updated: Apr 2, 2019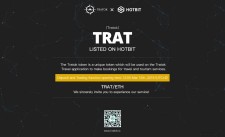 DUBAI, United Arab Emirates, April 2, 2019 (Newswire.com) - The listing of Tratok (TRAT) on Hotbit is yet another development for Tratok expanding its presence across the crypto markets to ensure maximum public accessibility to the Tratok travel token. This partnership comes just before the announcements of the first travel and tourism partners who will be accepting Tratok and increasing efficiencies. The benefits are truly shared by all stakeholders with service providers increasing their profitability by up to 30 percent while providing clients with a better deal.
Tratok chose Hotbit to be added to their growing list of partners due to the exchange's large user base, which will help ensure widespread global adoption of the Tratok token. With a monthly transaction volume of $3.5 billion, Hotbit has accumulated 360,000 registered members, mainly from Asia and Europe. This community adds to other exchanges that are already listing Tratok (Mercatox, Barterdex, Altilly and Token Store) and ensures that the world's travel token is truly accessible to all members of the public.
Taking inspiration from Dubai's policy of adopting new technology to create the world's smartest city, Tratok leverages the disruptive technologies of blockchain to create a faster, more cost-effective and more transparent travel ecosystem for the benefit of millions of users and countless service providers - an ecosystem that is expected to capture significant market share in the tourist hotspot.
Since November 2018, TRAT has risen 427 percent despite the significant digital currency bear-market - a sign of extreme confidence from blockchain enthusiasts who understand the world-changing potential of TRAT. A privately funded venture which did not depend on an ICO or public funds, Tratok has consistently been recognised as a project with genuine value, a revolutionary use case and industry-changing integrity and values. With the project's list of supporters soaring to over 62,000 members across social media channels, the team is planning for even greater things in 2019. With the seven-month early launch of the beta travel application being celebrated with the gifting of free Tratok tokens to the first one million users, Tratok is on course to change the face of travel and make it accessible for all. The next evolutionary step has arrived.
Source: Tratok Ltd
Share:
---
Categories: Cryptocurrency
Tags: cryptocurrency, disruption, dubai, ecosystem, ethereum, holidays, hotels, listing, tourism, TRAT, travel, UAE
---