TradeWheel's CEO Delivers Speech at the Most Anticipated E-Commerce Cross-Border Conference of 2019
Press Release
•
updated: Oct 30, 2019
ECBC Malaysia is the world's premier business conference, offering attendees the opportunity to learn and network with Asia-Pacific countries. The CEO of Tradewheel, Mr. Noman Javed, will advertise the importance of user experience in business to business trading models.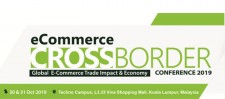 KUALA LUMPUR, Malaysia, October 30, 2019 (Newswire.com) - The biggest international eCommerce giants will be getting together again for this year's eCommerce Cross-Border Conference, being held from Oct. 30 to 31, 2019, at the Techno Campus, Viva Shopping Centre Mall in Kuala Lumpur, Malaysia. The eCommerce Cross-Border Conference (ECBC), organized by buddicart eCommerce SDN BHD, is the most anticipated eCommerce Cross-Border Meet-Up and Networking event. It has more than nine foreign countries participating in various events, and speakers from different regions have been invited to showcase their expertise, vision, knowledge and eco-system that the delegates are looking forward to gaining expert knowledge of.
Attendees of the event are going to gain insights about the technological answers of tomorrow. This conference is going to connect the global marketplaces and successfully enable the international traders to tap into the digital pool of eCommerce platforms that enable anyone and everyone to sell a vast variety of goods and services and become established as an SME that operates globally.
Informative and educational workshops are being held for the delegates to get beneficial insights from already developed names in the B2B industry. This conference is set to bring people a whole lot of valuable connections that will increase their networking opportunities. Like every other year, a great number of key global B2B buyers and suppliers of different industries are going to be here to guide participants through the challenges in the way of a business. Attendees will get a direct perspective from many prominent names on building networks with local and international markets and how to combat the challenges that are bound to occur.
Participants are looking forward to this year's highlight, which includes the speeches by honorable speakers from 10 Asia-Pacific countries -- namely Winliner CEO Dr. Zheng, TradeWheel.com, and Applet's CEO Mr. Noman Javed, Mr. Pawoot from TARAD.com and many other noteworthy names from the B2B industry. By being a part of eCommerce Cross-Border Conference, businessmen, delegates and like-minded individuals who wish to make it big in entrepreneurial sectors will be exposed to the latest technology methods, like the Internet of Things (IoT) innovation in the eCommerce industry, new business opportunities for cross-border trade and the transformation of the retail sector across Southeast Asia.
With over 10 Asia Pacific countries and 20 Top E-Commerce Speakers, presentations will cover a wide range of topics, from industry vision, personal learnings to eco-system. This annual ECBC Malaysia will provide businesses with the information that delegates are looking forward to learning, to remain competitive in global markets.
During this two-day event, the CEO of TradeWheel.com and Applet technologies, Noman Javed, will be addressing the attendees as an eminent speaker, discussing industry knowledge and his vision of the future of eCommerce cross-border trade and what impacts can it exert on the global economy. His speech is expected to demonstrate the core values of the business, along with showcasing the latest innovative techniques that he has introduced in his commercial practices. Tradewheel.com is highly appreciated in the industry, given its ideal human-to-human services. The CEO, Noman Javed, in the course of his talk, will be disclosing the key ingredients leading to the perpetual success of the platform.
The eCommerce Cross-Border Conference has been an effective event in the B2B world that has enabled more and more SMEs and Corporations to embrace eCommerce as part of an additional revenue conduit. We are bringing attendees the most exciting event in the history of B2B trading, where they will hear from big shots of the industry who are changing the game with their innovative perspectives in the Asia-Pacific region.
With numerous cross-border heroes who have paved the way for eCommerce in their international markets, participants will get precious insights as to how technology and the internet can be used to revolutionize business.
Join TradeWheel at the ECBC Malaysia and let them endow you with their expertise, knowledge, far-sighted vision, and business environment for you to reach a vast directory of customers which will ultimately prove beneficial for everyone. Those interested can register themselves at: https://www.eventbrite.com/e/ecommerce-cross-border-conference-2019-tickets-57518008913
Related Media