TraceFree Launches the First Browser That Hides All Personal Data From Any Website
Press Release
•
updated: May 23, 2018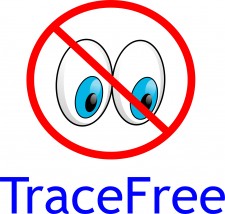 BOCA RATON, Fla., May 23, 2018 (Newswire.com) - TraceFree Corp. - www.tracefree.com - announces the first web browser that makes it impossible for any site, including Google, to see or share a user's personal data. The user is now finally in charge and can control what, if any, personal information gets revealed on a website.
This technology leapfrogs, and will ultimately replace, a virtual private network (VPN) by giving complete anonymity and security while also hiding browsing activity from the internet provider.
The recent Facebook controversy and new government data regulations have forced companies to update their website privacy policies. However, there is still NO WAY a user can be sure their data does not continue to be shared or sold improperly. TraceFree eliminates this fear by NOT allowing a website to see, capture, share or track their personal data.
"TraceFree is the world's first virtual private browser, and it disrupts data collection from internet browsing. The consumer finally has their OWN ONLINE PRIVACY POLICY and it overrules any website's. It forces the website to automatically agree to the user's privacy policy when they land on their site."... Scott Shaffer Founder TraceFree
The company is currently offering the much-needed solution to the online privacy problem in their Kickstarter campaign: https://kickstarter.com/projects/2072963998/tracefree-the-very-first-virtual-private-browser ​
Consumers have been given a false sense of privacy and security with solutions like incognito mode, virtual private network, privacy apps and private search engines. All of these "private" solutions STILL allow a website to gain access to the user's computer.
TraceFree gives the user anonymity and complete security because the website can never see or touch the user's computer. This also prevents cookies, browsing history and viruses from ever getting on the user's device.
Gartner Inc., the world's leading research and advisory company, identified the "remote browser" as one of the Top Technologies for Security. https://www.gartner.com/newsroom/id/3744917 ​
TraceFree IS a remote browser and also includes special privacy features. The user starts each session with a cookie-free browser and all data is deleted on logout.
TraceFree is offering early availability of the browser to backers on Kickstarter.
https://kickstarter.com/projects/2072963998/tracefree-the-very-first-virtual-private-browser
About TraceFree Corp.:
TraceFree Corp. is a startup based in Boca Raton, Florida, that is marketing the world's first virtual private browser that allows web users to surf with anonymity and complete security. The browser with its special privacy features provides the user with their own Online Privacy Policy.

For more information, please visit www.tracefree.com or email info@tracefree.com.
Source: TraceFree Corp.
Related Media