TrüNorth™ and Paul Teutul Jr. Team Up for NASCAR Daytona Truck Race
Press Release
•
updated: Jan 23, 2019
TrüNorth™ and Paul Jr. Building Bikes and Going Racing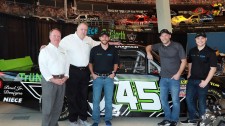 CHARLOTTE, N.C., January 23, 2019 (Newswire.com) - TrüNorth Warranty™, the leader in medium and heavy-duty truck protection, together with Paul Teutul Jr. of Paul Jr. Designs and a star of "American Chopper," unveiled the TrüNorth Paul Jr. Designs NASCAR truck Jan. 18 at the NASCAR Hall of Fame in Charlotte, North Carolina, marking the second such collaboration between TrüNorth and Paul Jr. Designs in recent months. In 2018, TrüNorth commissioned a Paul Jr. Designs custom chopper which was unveiled at the annual UTA (Used Truck Association) Convention in Orlando, Florida, in November and taped for an episode of "American Chopper" on the Discovery Channel, airing in February 2019.
"We're very excited to continue working with Paul Jr. on several unique initiatives this year," said Kirk Eskridge, TrüNorth Global CEO. "He really understands our business and our clients and brings an incomparable level of creativity, innovation and enthusiasm to each project. We look forward to our ongoing partnership with Paul and to sharing his work with TrüNorth retailers and warranty customers at events throughout the year."
"In addition to engaging Paul Jr. Designs with our NASCAR Gander Outdoors Truck Series program, we've commissioned a second custom chopper in association with a new brand we'll be launching later this year," Eskridge said. "We plan to take both choppers and the TrüNorth Paul Jr. Designs NASCAR truck on tour to our clients' dealerships throughout the year."
"I've worked with some great folks to build amazing bikes over the years, but the TrüNorth bike is one of my favorites. I love the ongoing relationship we've built with Kirk and his team. Being a part of TrüNorth's NASCAR racing program is a terrific way to engage with our common audiences and share the work we're doing together," commented Paul Jr., who also designed the graphics for the NASCAR truck.
The TrüNorth Paul Jr. Designs NASCAR Gander Outdoors Truck Series (NGOTS) truck will make its debut at Daytona International Speedway in the NextEra Energy 250 on Feb. 15 and will appear in several other races this year. Niece Motorsports driver Ross Chastain will be behind the wheel at Daytona, with Reid Wilson sharing driving duties throughout 2019.
Last season, Chastain made three starts with Niece Motorsports - at Bristol Motor Speedway, Texas Motor Speedway and Homestead-Miami Speedway - earning a best finish of 12th at Bristol Motor Speedway.
The 2018 season was a busy one for Chastain, who competed in all three of NASCAR's major series. Chastain made 34 starts in the Monster Energy NASCAR Cup Series, 33 starts in the NASCAR Xfinity Series (NXS) and seven starts in the NGOTS last season.
In September, Chastain broke into the Winner's Circle in the NXS, after putting on a dominating performance at Las Vegas Motor Speedway, winning each stage of the race and leading 180 of 200 laps.
Wilson, who will split the No. 45 ride with Chastain, competed in three NGOTS events in 2018 - at Martinsville Speedway, Iowa Speedway and Homestead-Miami Speedway - with a best finish of 16th coming at Martinsville Speedway.
Prior to moving into the NGOTS, Wilson competed in the NASCAR K&N Pro Series East, where he had a 50 percent top-10 rate. In 2018, he was named No. 46 in MotorsportsAnalytics.com's ranking of the top 75 NASCAR Cup Series prospects. "Reid hasn't competed regularly in a NASCAR ladder division, but when he does appear, he's proven formidable," stated David Smith, president of Motorsports Analytics.
About TrüNorth GlobalTM
At TrüNorth Global™, our commitment to keeping our customers on the road drives everything we do, from providing the most comprehensive aftermarket coverage in the industry through our TrüNorth and OEM2 warranties to our TrüTow roadside assistance service and flexible private-label programs based on the needs of our dealer partners and their hard-working customers. Our real-time GPS tracking technology and 24/7 direct access to claims representatives via phone, web, mobile app and text are just a few examples of our ongoing resolve to continue paving the way for the future of our industry.
By employing the finest professionals in transportation, finance, actuary and customer service and offering outstanding program value, we have solidified our position as the global industry leader in transportation-related warranty programs and services. More importantly, we continue to earn the trust and confidence of the fleets, finance companies, drivers, dealers and communities in which we operate through a reputation built on honesty, integrity and financial strength. For more information, visit www.trunorthwarranty.com.
MEDIA CONTACT:
Barry Wilson
704-875-9029
racing@trunorthwarranty.com
Source: TruNorth Global
Related Media